Opinion
A ride through Africa
Word count: 943
Africa, to some the dark continent filled with countless risks, to others a land of beauty and incredible opportunity. Is Africa indeed rising or is and will it remain in a quagmire of constraints?
Receive ONE magazine and TWO locked articles of your choice for FREE when you register an account
Africa, to some the dark continent filled with countless risks, to others a land of beauty and incredible opportunity. Is Africa indeed rising or is and will it remain in a quagmire of constraints?
For more than a decade, I have been intrigued by and passionate about Africa, both from a business and tourism perspective. As an investor I spend countless hours researching Africa behind a laptop, but was curious to experience more of the realities on the ground.
After many months of planning (and years of dreaming) I finally jumped on my BMW motorcycle in July 2016 to ride from Cape Town to Ethiopia and back over three months to experience first-hand what Africa has to offer. 
What rapidly became evident is that Africa is not well understood, even by South Africans. 
From the outside, people tend to focus on the negatives and risks and reason why not to invest or do business in Africa. However this is often not the accurate picture. For example, throughout the entire trip I never felt unsafe, was asked for a bribe, hassled at a border post or check point. To the contrary, I was welcomed like a long lost brother. Being on the ground allows one to obtain a balanced view of the risks and constraints compared to the mountain of opportunities.
You also don't have to be on the road for long before realising that Africa's greatest asset is its people. The friendliness, resourcefulness and willingness to help a stranger (sometimes at great expense or effort to themselves) have created a lasting positive impression on me. 
Strong educational systems can shape and harness the latent potential of the African people which will lead them out of poverty. 
Africa has a strong tourism industry and is a leading source of revenue and through my breath-taking experiences of inter alia the Victoria Falls, gorillas at Bwindi Impenetrable National Park, whitewater rafting on the Nile River, flamingos at Lake Bogoria, rock hewn churches of Lalibela, lava lake in Danakhil Depression, Simien Mountains National Park, Serengeti, it is no wonder. Tourism helps to diversify these economies and also introduce affluent tourists to the opportunities in their countries which might convince them to do business there.
Agriculture also flows strongly through the veins of the people of Africa. As you ride through Zambia, the highlands of Tanzania and Kenya, as well as Ethiopia, you are greeted by rows upon rows of maize and sometimes wheat. 
Subsistence farming will always be a part of Africa but a slow and steady move towards commercial farming as well as good agricultural practices are evident. 
The biggest challenge is access to markets for the produce and with the expansion of food retailers, agricultural services companies and logistics companies into Africa, this will likely be addressed over time, although not over night.
Undoubtedly, one of the biggest challenges Africa is currently facing is a lack of infrastructure such as quality road networks, railways, power and water, which is an impediment to economic growth. 
An example of this is the Kazangula border between Botswana and Zambia where vehicles have to cross the Zambezi River via ferry. Luckily I could ride past the 500 meter queue of trucks waiting to be loaded on the ferry one at a time. 
However, upon reaching the Zambia side I was relieved to see construction on what will be a bridge across the river which will decrease the time to cross the border immensely. 
And so, throughout Africa, you are not only confronted by a lack of infrastructure but even more so by the development that has and is being undertaken.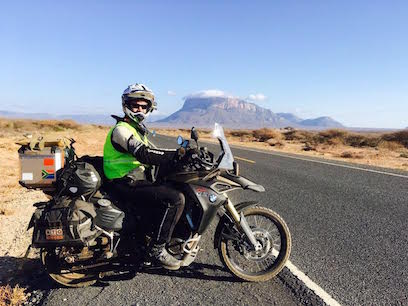 Another major constraint to unleashing Africa's full potential is a lack of strong political governance. Africa requires more leaders who place their countries and its people above the interests of themselves, their parties and their political supporters. Leaders who are good stewards of the resources entrusted to them and who spend it wisely. 
This has hardly been the case in many African countries but we are seeing increased cases of nations rising to hold their governments to account like we are currently seeing in South Africa, Zimbabwe and Ethiopia. Social media has definitely played a valuable role to mobilise such movements.
However, we are indeed seeing the rise of African President's like Paul Kagame of Rwanda and John Magufuli of Tanzania who are revered by the people of those countries. I hope for a future with more Presidents such as these. 
The countries that were most impressive were Kenya and Rwanda. Kenya due to its high level of development compared to its neighbours as well as the resourcefulness, determination and creativity of its people. Rwanda was an enigma. From the moment my bags were searched at the border post and all plastic bags confiscated (because it is illegal in the country due to pollution risk) I realised that Rwanda is different, and clean! For a country to crawl out of the doldrums of genocide in 1994 to reach a level of development and opportunity as currently exhibited in Rwanda is an economic miracle. Coincidentally, these countries also rank very high in their peer group in the Ease of Doing Business index.
Based on my travels, I believe that Africa is evolving, that the opportunities are immense and that my life's work will be to invest in Africa and to contribute a significant portion of the investment gains to uplift the continent. However, the road will not always be straight or without some bumps. But what is an adventure without that?