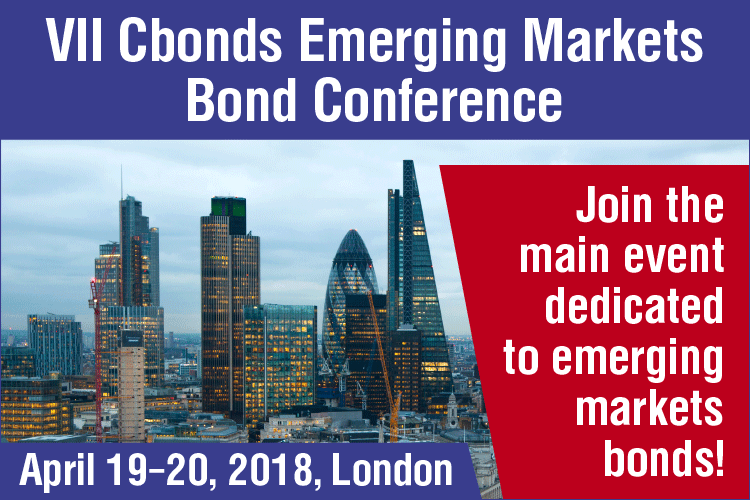 Cbonds Emerging Markets Bond Conference
Cbonds Group is happy to invite you to the next Cbonds Emerging Markets Bond Conference to be held in London on April 19-20, 2018.
The agenda of two days Cbonds EM Bond Conference includes the following topics: · Global macro & fixed income panel;
· Institutional investors panel;
· DCM panel;
· BondTech - how will new technologies change bond market?
· Special sections: Latin America, Africa, Middle East, Asia, Russia, Ukraine, CIS and Caucasus region states.
Preliminary agenda is available at http://cbonds-congress.com/events/401/agenda
The expected number of participants is 200, including the UK financial institutions, EM financial institutions and corporations, international rating agencies and infrastructure companies.
PARTICIPATION:
The participation fee is 800 GBP / 900 EUR UK-based buy-side is invited to participate for FREE*
To register for the event, please, fill in the registration form: http://cbonds-congress.com/events/401/registration/?l=1
PARTNERS:
Official partners: BCS Global Markets, AK Bars Bank;
Sponsors: Clearstream Deutsche Börse Group, Московская Биржа, ICU; Lead information partner: Cbonds;
Media partners: BNE Intellinews, ACI Russia, Debtwire, EMIA, Africa Global Funds
CONTACTS:
Agenda:
Ekaterina Gritsenko: kate@cbonds.info, +7 (812) 336-97-21 *223
Dmitry Alekseev: d.alekseev@cbonds.info, +7 (812) 336-97-21 *116
Sponsorship: Sergey Zobov: szobov@cbonds.info, +7 (812)336-97-21 *103
Participation: Ksenia Ardelyan: ka@cbonds.info, +7 (812) 336-97-21 *132
* Buy-side: mutual funds, pension funds, hedge funds, private equity funds, trusts, insurance companies. The number of free passes is limited, please register in advance. Organizers have the right to refuse free participation without explanation.