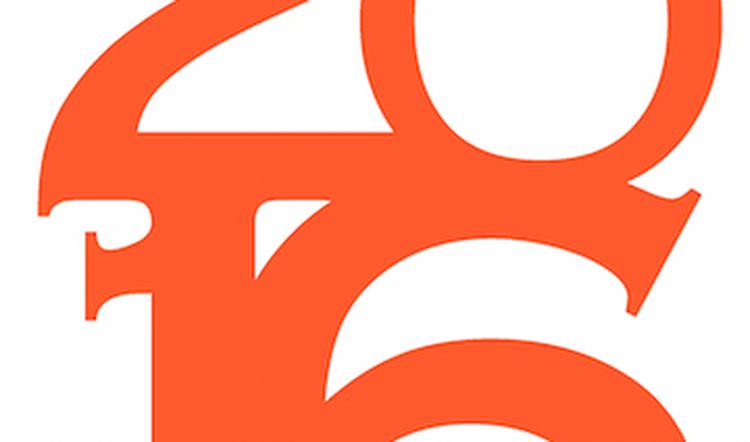 Analysis > Interviews
OUTLOOK 2016
Word count: 3168
As we enter 2016, AGF's Anna Lyudvig speaks with leading industry experts about potential trends and themes facing the African asset management during the next 12 months
Receive ONE magazine and TWO locked articles of your choice for FREE when you register an account
As we enter 2016, AGF's Anna Lyudvig speaks with leading industry experts about potential trends and themes facing the African asset management during the next 12 months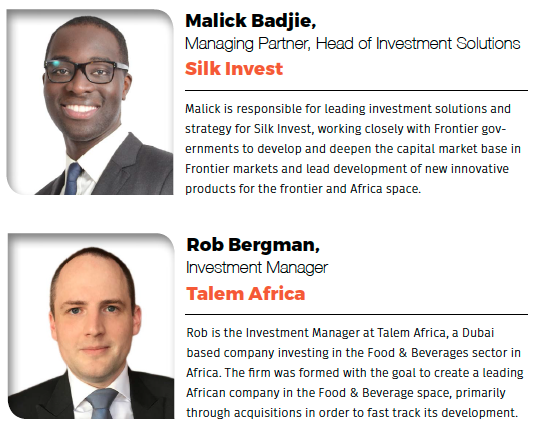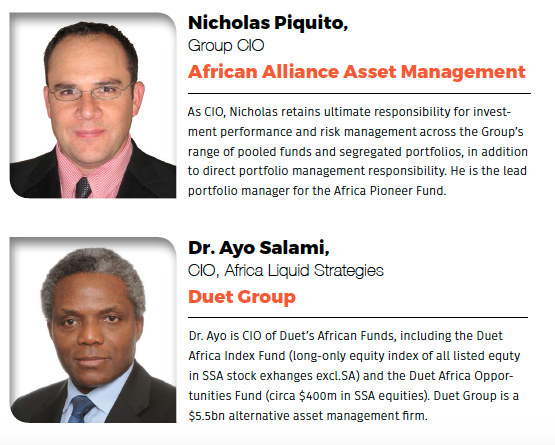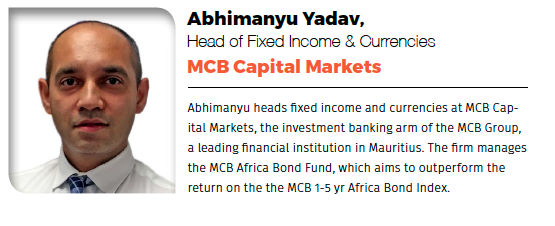 Anna Lyudvig: Which African markets should investors look out for in 2016?
Ayo Salami: In 2015, African markets and economic conditions have certainly deteriorated, however Sub-Saharan Africa is still one of the fastest growing regions of the world, with positive growth trends, large infrastructure and transport investment opportunities in most major African economies. For 2016, we would favor those countries that have allowed their exchange rates to adjust to the deterioration in their terms of trade resulting from global USD strength and falling commodity prices. Countries such as Kenya, Uganda, Rwanda, Tanzania, Cote d'Ivoire and Mozambique will all likely show good growth, particularly the latter three countries which are expected to grow at above 7% in 2016. Investors will need to tread more carefully in Africa's larger economies: Nigeria, South Africa, and Angola are expected to show more muted growth due to commodity prices and for South Africa continued pressure on growth.
Nicholas Piquito: On balance we remain overweight Kenya and the BRVM (largely driven by our positive view on Sonatel, the Senegalese mobile telecoms operator). Kenya in particular is likely to be the primary beneficiary of international asset flows back into Africa when global risk appetite returns. After being underweight Nigeria for some time our bias is to move (slowly) to an on-weight position during the first half of 2016. We believe that momentum is slowly turning, and the relatively undemanding valuations for selective Nigerian stocks makes this an opportune time to reweight our exposure. We remain underweight North Africa (Egypt, Morocco and Tunisia). Morocco remains a relatively expensive market with no upside catalyst in sight, while in Egypt the operating environment remains constrained due to ongoing structural impediments to the economy for which we see no short-term solutions.
Abhimanyu Yadav: For fixed income - Nigeria (post a devaluation), Kenya, Egypt, Mauritius.
Rob Bergman: For private equity investors - countries with economic centers that keep improving on fundamentals regarding urbanization, real GDP per capita, young and growing populations and investments in infrastructure. Additionally, a certain level of economic activity should have been reached to provide for assets that can be invested in. Taking these factors into account, I believe that Nigeria, Ghana, Ivory Coast, Ethiopia and Kenya remain among the most attractive destinations.
Anna: Which asset class will be the best performer in 2016 and why?
Malick: African equities and bonds are both attractive for international investors. Equities have clearly been oversold and are well placed for a recovery. Within bonds, the local currency bonds are especially attractive with average yields close to 15% in countries like Nigeria and Kenya. African currencies have sold off in 2015 in line with other EM currencies and we expect a move back to annualized depreciation levels of 2-4% instead of the double digit numbers that we have seen in the past. This should allow investors to target a net return of over 10% which will be even higher if yields come down.
Ayo: We see a significant opportunity for equities across the region. Given that valuations in both emerging markets and frontier markets have dropped in 2015, there is real case to be made for value in Sub-Saharan Africa. African markets are trading at below 50% of their 2007 peak and with economic growth and corporate earnings holding up. Given the impending commencement of a US rate tightening cycle, 1H16 outlook for Africa is likely to remain fragile. However there are encouraging signs of optimism, the most significant of which, is that corporate earnings have remained robust despite declining share prices. In addition to equities, real estate investments, be it through, private equity or direct investment, are expected to continue to do well. For many countries, the most encouraging aspect of 2016 is the focus on infrastructure spending with the capital budget increasing significantly in Government budgets. While the increase in budgetary spending and FX depreciation to date will contribute to rising inflation across Africa, we would argue that equities and real estate offer the best compensation and risk-reward trade-off for 2016.
Anna: Ayo, so what's your outlook for African equities for 2016?
Ayo: With monetary policy in most African countries already shifted to a tightening bias, we believe that these currencies will cope adequately post any hike in US rates. The quicker the Gordian Knot of the US rate hike is finally cut, clearing the way to focus on basic issues like earning growth and valuation, the quicker we can get back to the underlying positive story that continues to unfold in Africa. We expect a rebound in African equities in 2016, although any recovery might be tilted towards the latter half of the year (2H16).
Anna: The African equity markets performance across the region was negative for the most part in 2015. How much longer is the downturn in markets likely to last? What is needed to kick-start a rebound?
Ayo: For foreign investors who report performance in USD, about 85% of the negative performance experienced in 2015 has been attributable to adverse FX movements. A lot of markets actually achieved positive returns when measured in local currency which is a testament to the robust performance of corporate earnings. The current downturn in performance could last a further 6 months. In many ways, global headwinds, such as the Fed's impending interest rate hike and some local headwinds will continue to put pressure on African markets. However, there is a huge mispricing opportunity in the African markets. Many investors are convinced that the African market is inherently riskier; however this perception is not supported by data and is mainly guided by headline risks. In order to kick-start a revival in market confidence, a realization amongst investors that the market risk has already been more than priced in is needed.
Malick: Africa's performance over the past few years has been "soft" due to a combination of factors, including the Ebola crisis, uncertain political elections in Nigeria as well as generally lower inflows to emerging markets. Added to this, most international investors still view the continent as a commodity story whereas consumer growth is the real driver. However, the positive spinoff of this decline is that company valuations in Africa are trading at significant discounts, providing investors with a window of opportunity to position portfolios for a market turnaround.
Nick: 2015 proved to be a difficult year for Africa's equity markets, particularly so in hard currency terms. In the absence of a systemic emerging markets (credit) crisis our view is that downside risk is largely priced into the market and, as such, we remain cautiously optimistic that 2016 will prove to be a better year for Africa's equity markets than 2015. At 8.5x forward earnings we regard these markets as inexpensive, although not radically so. While this number is somewhat flattered by the high concentration of financial stocks (trading on 6x forward earnings) in our investable universe, there remains a high level of pricing dispersion amongst sectors and countries.
Anna: Nick, and in which sectors do you see the best investment opportunities for equity investors?
Nick: Financials remain attractively priced in our view, notwithstanding concerns regarding the potential for increased loan impairments in banks with exposure to the oil sector. As a result stock selection remains key. Ultimately financials – and banks in particular – represent a long-term play on structural growth in Africa's emerging economies, although the path is likely to remain volatile. At this point the tier one banks represent a better risk/reward tradeoff than those in the second tier, particularly in an environment of (globally) increasing regulatory and capital constraints. Mobile telephony remains fairly valued on aggregate. We are seeing the emergence of different business models within the sector, and our view remains that a company such as Safaricom in Kenya is more appropriately viewed as a medium-term play on digital convergence than a mobile telephony business. Consumer staples companies – and in particular Nigerian consumer staples companies – remain overpriced given the downside risk to margins in an environment of increasing consumer price elasticity.
Anna: Ayo, what's the best investment strategy for African equity investors in 2016?
Ayo: The best strategy is patience…A quote by Anton Chekov is appropriate to summarize the present mind set for investing in the African markets, "Any idiot can face a crisis - it is this day to day living that wears you out". In the long-run our views on Africa are unchanged but in the interim the uncertainty and the skittish nature of markets mean that we are in that period of day-to-day living where great long term ideas are not always rewarded month after month in the short term. In this environment, the temptation to sell out of the market is understandable. However it is worth remembering that over the last 30 years, if an investor missed the top 10 monthly returns in the MSCI EM Index, their cumulative return drops from 837% to 135%. You risk losing 85% of the long run returns if you are not invested for 3% of the period. It is the ability to endure the boring day-to-day waiting for something to happen; that is the hallmark of a great investor.
Anna: What's your outlook for African fixed income for 2016?
Ayo: African fixed income offers significant opportunities as these markets are often less volatile and some countries are less vulnerable to external shocks than many think. Similar to equities, African fixed income also experienced a sell-off in 2015 largely reflecting the reversal of portfolio flows. The selloff has been largely indiscriminate with very little differentiation between countries. Once the USD Fed rate hike is out of the way, we expect that fundamentals will reassert the direction of fixed income. Countries with low fiscal deficits like Botswana, Nigeria, Cote d'Ivoire, Cameroon, Tanzania offer value and are likely to outperform. Generally we think African fixed income is incredibly cheap, as most countries have little debt problems, low sources of stress and yet there is a high carry.
Abhimanyu: Currency weakness was the biggest detractor from performance in 2015 (if USD based investor). We think currency weakness is slowly bottoming out and Carry, which is decently high in most African local currency fixed income, will be the main driver of returns in 2016. Overweight local currency in select markets (Kenya, Egypt, Mauritius).
Anna: What's the best investment strategy for African fixed income investors in 2016?
Ayo: Investors should look to countries with flexible currencies and avoid those with fiscal problems and the need to reduce their spending, in many cases, those countries with reduced incomes are due to oil prices. In terms of corporate debt opportunities, investors should aim to expand and diversify their portfolio, by embracing consumer-driven trends, which we feel includes banks as well as more traditional retail opportunities. The flipside to this is to avoid countries plagued by fiscal problems, such as Ghana and Malawi, which need to reduce their spending.
Abhimanyu: Yields are very attractive, especially in the short end. Need to keep an eye on currency volatility, else the asset class is very robust and Carry should drive returns (as in developed fixed income as well). Need to differentiate within Africa of course (it's not one market). Be overweight the less commodity dependent countries and those that have made monetary adjustments. Nigeria post devaluation would be very interesting.
Anna: Which factors/events will drive capital markets performance in Africa in 2016?
Ayo: The direction of commodity prices and the strength of the dollar are likely to have a significant impact on the markets as well as Government budgets and economic planning and behavior. In 2016, there are some key elections scheduled. The result of these will have a fundamental impact on Africa's future political stability and the volatility of the markets.
Malick: The extremely low valuations currently seen across the continent as an anomaly that will disappear in time as markets normalize. Many quality companies are trading on an average price-earnings ratio (PE) of 10 times with a dividend yield of between 5% and 6%. This is where investors should be focusing. The overall trading environment across Africa has been less of a "beta play" and more a stock-picking one, he says. Companies that have done particularly well are those that have diversified their earnings streams targeting new markets. For example, Dangote Cement, one of the continent's largest cement producers, now earns one-third of its revenue from outside its home market of Nigeria. Nigeria-based Zenith Bank benefitted this year from its newly established retail operations, having been predominantly a corporate and commercial bank.
Anna: Rob, what's your outlook for African private equity?
Rob: On the one hand, I believe a main theme for 2016 will be the macro-economic risk that has presented itself over the course of 2015. The strong US dollar, African government debts and lower global commodity prices have put a lot of pressure on African currencies and I believe this will continue in 2016. Any investor in need of showing USD denominated return will act with caution to see where the currencies will bottom out. Additionally, higher inflation, higher raw material costs and lower economic growth will put pressure on local earnings. On the other hand, I see continued and growing interest from investors in the United States and the Middle East who are being attracted by the improving fundamentals of the continent. Additionally, there has been a lot of capital raised last year that will need to be put to work. Several private equity managers will need to divest from their investments, also bringing some quality assets to the market. Therefore I believe deal flow will remain strong but might show a decline in growth compared to recent years. I do see a distinction between the larger size and smaller size deals below $10m. I still see a large gap between capital demand and supply for this lower end of the market, where actually a substantial part of the potential deal flow is positioned. As it is difficult to tap into these smaller size deals for international investors due to the smaller and often immature nature, and most of the capital raised over recent months will be deployed in larger ticket sizes, I do see a lot of opportunities for local funds to step into this gap. I therefore expect more funds coming to market focusing on smaller deals and specific geographies.
Anna: Which factors will drive African private equity performance in Africa in 2016?
Rob: As the capital recently raised and the competition for sizeable quality assets are pushing up multiples, I believe investors should treat with care not to overpay for their investments. It remains to be seen if multiples will stay at current levels for the coming years. For the smaller deals where less eager capital is available, I believe the increased risk perception will be reflected in prices new investors are willing to pay. For sellers at the end of their holding period it might mean accepting a lower multiple for their investments. Other than just improving the financial metrics, investors can bring a lot of added value through compliance and reporting. For a lot of African businesses, implementing proper internal processes, compliance guidelines and reporting systems will increase their value substantially and will allow them to make the next step in their life cycles.
Anna: And in which sectors do you see the best investment opportunities for private equity investors?
Rob: As urbanization continues, it will be driving income growth and subsequently demand for consumer goods, healthcare, education and infrastructure. As most of these sectors are underinvested at the moment, I believe these sectors are and will remain very attractive for investors.
Anna: What are the key trends, issues and challenges facing the African private equity industry? What lies ahead?
Rob: We recently ended a period where the continent has gone through high growth partly due to external factors (quantitative easing in developed world, Chinese growth and commodity prices), however the fundamentals are still robust enough to continue the path taken, albeit be it at a slower pace. Even though there is uncertainty about the current size of Africa's middle class, it is clear a lot of people have been lifted from poverty over recent years. They might not all classify as middle class at the moment, but the continued urbanization and resulting income growth will lead them to become middle class in the coming years. This growth is similar to that witnessed in parts of Asia decades ago and will drive long term demand in all sectors of the economy. Therefore, I believe Africa remains a very attractive destination for private equity for the foreseeable future. The private equity industry itself will be impacted by the fact that the main economic centers on the continent are starting to shift to a more mature environment. The gap between capital demand and supply is closing, especially for quality assets of a reasonable size. One can already see entrepreneurs in this category being able to choose their preferred partner themselves nowadays. This also means that investors will have to find ways to distinguish themselves from other capital providers and structure deals innovatively to remain attractive partners for entrepreneurs. Although the trends and challenges might differ from the rest of the world, I believe the final success factors in Africa are not that much different from anywhere else. Working with the right local partner with an aligned vision is critical for a successful investment.
Anna: And what about the broader asset management industry?
Nick: The relatively underdeveloped and, in many cases, misunderstood nature of the African markets remains a key impediment to large-scale interest on the part of international institutional investors. While we expect these markets to continue their development trajectory, this process will take some time. The resultant inability of African asset managers to significantly scale assets under management outside of South Africa in the short-term is likely to lead to consolidation in this space – a development which we would consider beneficial to the future of the industry.
Abhimanyu: The Pan African asset management industry needs to channel money into the asset class. We're starting at a very low base and there is so much yet to be done. Back office and clearing systems are not efficient at all. But in the current risk off environment it's hard to get investors focused on Africa (which is high risk by most measures). I think getting African investors to invest in Africa is going to be very hard (it's too ingrained in the investment psyche to invest outside Africa, not in Pan Africa). Rather focus on non-African investors, for whom Africa is a diversification play. 2016 is going to be a tough year for this if the start is any indication how the year progresses.