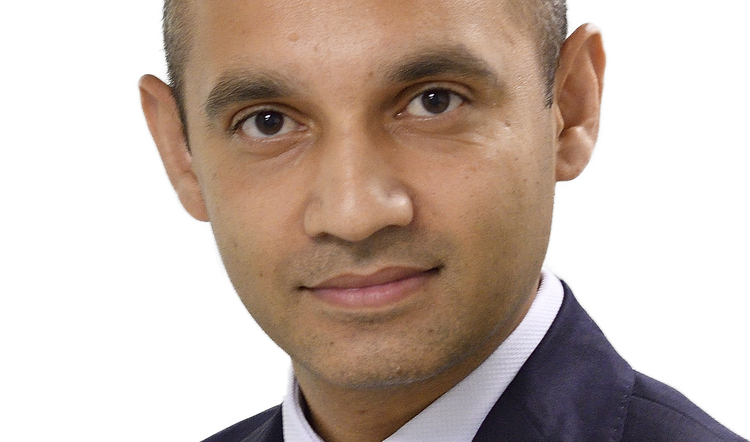 Analysis > Interviews
Finding opportunities in African fixed income
Word count: 1002
AGF speaks with Abhimanyu Yadav, Head of Fixed Income & Currency, MCB Investment Management, about the attractiveness of the growing African fixed income asset class and the company's MCB Africa Bond Fund.
Receive ONE magazine and TWO locked articles of your choice for FREE when you register an account
AGF speaks with Abhimanyu Yadav, Head of Fixed Income & Currency, MCB Investment Management, about the attractiveness of the growing African fixed income asset class and the company's MCB Africa Bond Fund.
Africa Global Funds (AGF): When launching the MCB Africa Bond Fund over 5 years ago you were one of the first asset managers to venture in the African fixed income space. How did you start investing in that asset class and what is the fund management philosophy?
Abhimanyu Yadav (AY): Well, you know, investors have been excited of the prospects in Africa since the turn of the century (and possibly before). Many believed and still do that it is home to vast business opportunities, despite the many challenges the continent faces. But most of this investor interest was usually translated via the FDI or private equity route and typically in hard currency. This we believe was primarily due to the relatively lower development of the capital markets here and the fact that investing in bonds and equities had been generally hard for foreign investors to approach. We saw that changing 5-6 years back with capital markets opening up, regulations to develop a local pension/insurance industry and a strong impetus on improving local capital markets in order to raise local currency capital for corporates and governments alike. And so we launched Pan African bond and equity funds to offer our investors another route to participate in the "Africa Growth" story.
Looking back now over five plus years since its launch, it is great to see the success and returns the MCB Africa Bond Fund has generated – [I would direct your readers to look at the comprehensive fund performance list in your magazine for returns on the fund and peers]. When we launched the fund in early 2014, the asset class – hard and local currency African fixed income - was very niche, illiquid and significantly under allocated. On a relative basis there is still a lot of catch up to do, but we have seen vast improvements in liquidity, transparency and underlying infrastructure take place in the past 5 years. Initially the fund did not invest in anything longer than a 5-year local currency bond because yield curves in most African countries stopped there, but now regularly goes up to the 10-30 year space.
As with the majority of funds in the space, we marry a mix of top-down with a bottoms-up perspective, but top-down has always taken precedent with us. The fund has always been very active (turnover has averaged >60-80% per year) and I believe one of the criteria that sets us apart from the competition is that we do not restrict our analysis to country fundamentals but also factor in technical factors like investment flows or investor risk appetites. Keeping an eye on and taking our driving instructions from the macro developments in the various markets the fund invests in has served us well, especially helping navigate the big devaluations in Egypt and Nigeria during 2016.
AGF: MCB Investment Management is the manager of the MCB ABF, in what other capacity are you also active on the African markets?
AY: MCB Capital Markets aims to be an African focused investment bank, offering world-class investment skills and corporate advisory services. Apart from our asset management arm, MCB Capital Markets is very involved across Africa via its Private Equity Fund, Corporate Finance advisory and Real Estate activities.
On the back of our success with the MCB Africa Bond Fund, we recently won a mandate from the African Development Bank, to launch the first multijurisdictional African Exchange Traded Fund that invests in local currency African sovereign fixed income. The AfDB is an anchor investor and sponsor of the fund.
Since the ETF's launch in Sep 2018, the African Domestic Bond Fund (ADBF) has become the first such vehicle providing investors across the world with an easy, liquid and low cost access to local currency African bonds.
Over this one-year period since its launch, the fund has also impressively outperformed (+19.36%) its global peers, be it Emerging Market local (+10.99%) or hard currency fixed income (+13.58%), US High yield (+6.80%), US investment grade bonds (+14.19%) and even the S&P500 (+5.57%).
*numbers in brackets are total returns from Sep 18, 2018 to Sep 18, 2019. Source: Bloomberg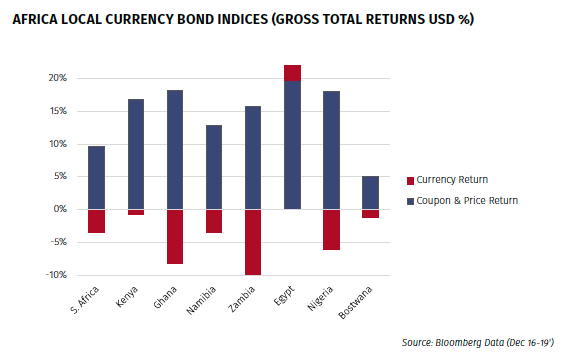 AGF: What are your views on the African local currency asset class in the next 3-5 years?
AY: We remain very excited and confident in the asset class going forward. You would obviously expect me to say that but if we talk hard numbers - these markets have exhibited and should continue to exhibit low correlation to traditional Emerging or Developed Markets.
In addition, while FX risk in Africa has historically been volatile and often a big detractor of returns, we have seen countries increasingly adopt orthodox monetary policies with a view to maintaining price and often FX stability. Over the last 3 years, the annualized total returns from the local currency bonds of all the countries the fund tracks have been much higher than the FX losses an investor might have faced, leading to positive USD returns.
Furthermore, the asset class is inherently diverse within itself – you get oil-exporting countries like Nigeria, to oil importing ones like Egypt and relatively well diversified ones in South Africa/Kenya. This makes it very appealing for asset allocators.
AGF: How does this asset class fit in an international investor portfolio or an African investor portfolio?
AY: Diversifying investments is a real challenge and there are only very few opportunities at present. African fixed income, especially local currency, has clearly offered this while outperforming many of its global peers, be it EM hard currency, US high Yield to even the S&P500.
This asset class remains significantly under invested by both international and African investors, but increased interest and trust is helping transform this niche category into a fully-fledged asset class and we would expect capital inflows to reflect that going forward.