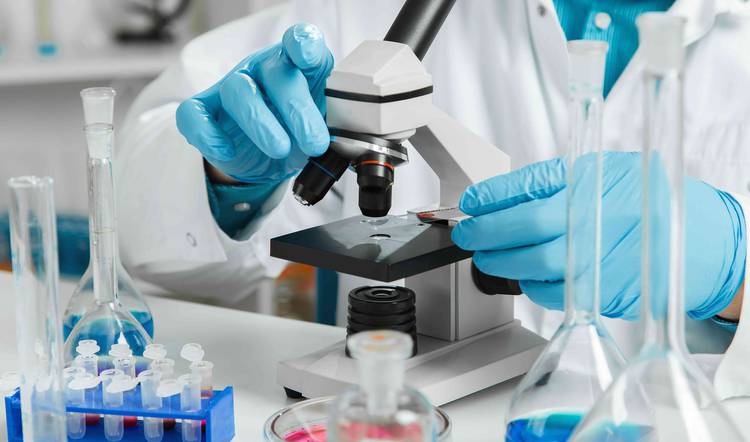 Analysis > Analysis and Strategy
PE Investments Boost the Healthcare Sector in Egypt
Word count: 1919
Anna Lyudvig talks with Mediterrania Capital Partners' Daniel Viñas, Partner, and Khaled Saba, Egypt Senior Country Advisor.
Receive ONE magazine and TWO locked articles of your choice for FREE when you register an account
Anna Lyudvig talks with Mediterrania Capital Partners' Daniel Viñas, Partner, and Khaled Saba, Egypt Senior Country Advisor.
As the Covid pandemic has unfolded, the deeper challenges facing Africa's healthcare systems are becoming highly apparent and a broader spectrum of stakeholders is feeling the consequences of chronic underinvestment. This has renewed the urgency for reform and reimagination across the continent, creating a new momentum for private equity to play an important role in deploying capital sustainably and efficiently.
Mediterrania Capital Partners, a private equity firm focused on growth investments for SMEs in North African and Sub-Saharan Africa, is one of the active players in Egypt's healthcare market. According to Daniel Viñas, Partner, and Khaled Saba, Egypt Senior Country Advisor, investing in African health systems is an opportunity to accelerate economic development and growth, contribute to saving millions of lives, prevent life-long disabilities and, overall, help communities reach a higher quality of life. In Egypt, the private sector is clearly emerging as a key driver of healthcare development and innovation.
The Egyptian healthcare system is pluralistic, comprising a variety of healthcare providers from the public as well as the private sector. The government provides basic universal health coverage, although private services are also available for those able to pay. Although the system ensures basic universal coverage, the medical care offered by the public health insurance system is generally of poor quality, facing shortcomings in terms of quality of service due to underfunding. However, several recent efforts have been directed towards enhancing the system.
In July 2020, Prime Minister Moustafa Madbouly announced that investment in the health sector was a government priority. Among other measures, the authorities are seeking to establish a universal health insurance system, supported by $400m from the World Bank.
"The healthcare market in Egypt will continue to grow. There are a number of private equity firms like us and DFIs that have already entered the market, and they intend to further develop their investments," - Khaled Saba, Egypt Senior Country Advisor
Nowadays, the government aims to develop the sector in partnership with the private sector, hence the Egyptian healthcare industry remains attractive for local and international investors.
With over 100 million inhabitants, Egypt is the most highly populated country in the MENA region, with Cairo one of the world's most densely populated cities. The Egyptian population is relatively young, with 37% being children under the age of 15. The high population density, along with increasing fertility rates, have challenged the healthcare system. Traditionally, the government and the private sector have not invested in the sector until only recently, when the government began to do so, and many private sector players that started to increase their investment spending.
Egypt is a lower-middle-income country with high levels of unemployment. Despite the government's efforts to boost the economy, 32.5% of all Egyptians live in extreme poverty. The increasing poverty level is caused by the austerity measures imposed on the government by the IMF. With a growing population and changing socioeconomic environment, Egypt faces great challenges in adapting to such developments in terms of healthcare facilities.
The National Health Insurance Project (NHIP) and increased spending on healthcare services are intended to provide more regular checkups for citizens as well as improving the quality and efficiency of the system. The Universal Health Insurance Law (UHIL) is also an attempt to extend healthcare coverage to a wider portion of society rather than on a case-by-case basis.
Both the NHIP and UHIL are part of the country's ongoing reforms. A reform is usually, if not always, synonymous with an opportunity or improvement. There is always room for improvement through reforms to improve things that are not working or can be done differently and more efficiently. Healthcare, together with Education, are among the most important and sensitive responsibilities of any country's government. Both sectors are key drivers for future development and sustainable growth.
However, such reforms are very challenging, complex and expensive. This is why the public sector is the best equipped and must play a key role in any healthcare reforms. However, this does not mean it is the best equipped to face other challenges or requirements such as leadership, talent attraction, best practices in governance, or operational efficiency. Consequently, collaboration from the private sector is strongly recommended to achieve sustainable growth and quality.
Mediterrania Capital Partners' Investments in Healthcare
Mediterrania Capital Partners, a private equity firm focused on growth investments for SMEs in North African and Sub-Saharan Africa, is one of the most active players in the healthcare market.
Through its MC III fund, the firm has invested in Morocco's largest private group of clinics, Akdital Holding (March 2020), and the leading private provider of diagnostic imaging and related radiology services in Egypt, Cairo Scan (January 2018). In May 2020, a consortium of investors led by Mediterrania Capital Partners acquired Egypt-based diagnostics imaging company MetaMed over €100m. Mediterrania provided €25m through Mediterrania Capital III, while the remaining €75m were provided by FMO, Proparco, DEG, and EBRD.
Akdital Holding
Founded in 2011, Akdital began operations with the Jerrada Clinic in Casablanca, and since 2018, it has been carrying out a major investment plan with the construction of four new multidisciplinary and specialist health establishments: the Ain Borja clinic (2018), the Casablanca International Oncology Centre (2019), the Longchamps clinic (2019), and the Casablanca Ain Sbaâ private hospital (2019). With a total capacity of 550 beds, Akdital uses advanced techniques and best-in-class equipment to provide a variety of healthcare services such as cardiology, cardiac surgery, neurosurgery, oncology, radiotherapy, intensive care, neonatal care, etc.
"Investing in African health systems is an opportunity to accelerate economic development and growth, contribute to saving millions of lives, prevent life-long disabilities and, overall, help communitiesreach a higher quality of life," - Daniel Viñas, Partner
Cairo Scan
Established in 1983 by the Abd El-Wahab and El-Gabaly families, Cairo Scan operates as a specialized, fully integrated diagnostic and interventional imaging and medical laboratory services institution providing high-quality imaging, analytical and related services in Egypt. Through its 16 centers in Cairo and Giza, the group offers first-class medical expertise aided by the most up-to-date equipment and complemented by an exceptional level of service. Today Cairo Scan and its subsidiaries employ around 750 doctors and employees on a full or part-time basis.
Mediterrania Capital Partners' investment in Cairo Scan has accelerated the company's expansion following its objective to bring access to quality healthcare services to a broader population in Egypt.
MetaMed
MetaMed was created in 2009 with the purpose of investing in Diagnostic Imaging (DI) and related radiology services such as MRI, CT Scanning, and X-Rays. After several acquisitions and expansion of the different businesses, MetaMed currently owns, manages and operates 29 DI centers mostly located in Egypt, a few centers in Jordan and Saudi Arabia, and one centralized clinical laboratory in Egypt.
Invested resources in healthcare institutions have been used for growth/expansion (in new geographical areas/governorates with unserved demand or new services such as lab tests and radiotherapy services) and also for quality improvement and modernization of medical equipment, IT systems, practices and procedures and also companies' culture and organization. Every investment opportunity represents an opportunity and a driver for change, development and growth, with quality improvements at the heart of every project.
The Covid-19 crisis has revived the need to reform the deprived medical services across Africa and created a new momentum for the private sector to become a key development driver of the healthcare sector. Investing in health systems provides a tremendous opportunity to accelerate innovation and growth while helping to save millions of lives and assist communities in reaching a higher quality of life.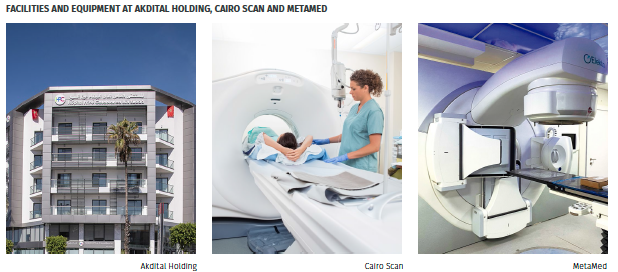 Cairo Scan and MetaMed Merger—Creating the Largest Platform of Diagnostic Imaging and radiology services on the region
Thanks to strong operational synergies with Cairo Scan, the acquisition of MetaMed has allowed Mediterrania and its co-investors to build the largest platform of diagnostic imaging and radiology services in the region, providing the most up-to-date, high-tech medical diagnostics through more than 45 branches in total.
Mediterrania Capital's objective is to lead the consolidation of the medical services market in the region through a combination of organic and inorganic growth. The transaction, whose total value exceeds €100m, includes a capital injection to accelerate the execution of the business plan. The resulting platform composed of Cairo Scan and MetaMed is chaired by Dr Hatem El Gabaly, Cairo Scan's current Chairman.
Following Mediterrania Capital Partners' investment, the senior management team at Cairo Scan was tasked with overseeing MetaMed's integration and reorganization to ensure it reached the same standards of service as Cairo Scan's. This involved the sharing and implementation of best practices and the hiring of new employees at MetaMed's branches to provide the same quality of service for which Cairo Scan is renowned. The investment consortium also mandated the strategy consulting firm BCG to assist in building a detailed five-year roadmap, from the integration of Cairo Scan and MetaMed to attaining a €500m platform.
MetaMed's expansion plan includes the opening of nine new centers by 2024, including four centers in Egypt, two in Jordan, and three in Saudi Arabia. Furthermore, the group is in the process of launching laboratory services in most branches in Egypt before rolling out the service in Jordan and Saudi Arabia.
Lastly, a state-of-the-art radiotherapy center is under construction in Cairo and scheduled to open in H2 2021, while a new, smaller center is scheduled to start operations in 2022. Demand for radiotherapy services in Egypt is increasing and the market is severely underserved in that area, making it an important upside in the development of MetaMed.
---------------------------------------------------
About Mediterrania Capital Partners
Managed by Albert Alsina, CEO and Founder, Mediterrania Capital Partners is a dedicated Private Equity firm investing in consolidated SMEs and mid-cap companies in Africa. With offices in Abidjan, Algiers, Barcelona, Cairo, Casablanca and Valletta, Mediterrania Capital Partners takes a proactive, hands-on approach to implementing the growth strategy of its portfolio companies by driving the Value Creation and ESG processes. Today, the group companies and portfolio companies of Mediterrania Capital Partners deliver over €1.5bn in annual revenues and employ more than 20,000 people in Africa.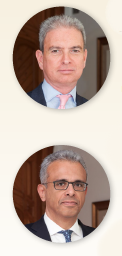 Daniel Viñas has three decades of experience in Private Equity asset management and financial services including six years at PwC's audit and transaction services teams, and 15 years as Director of 3i Group plc. Throughout his professional career, Daniel has accumulated asset management experience in various sectors including general industry, retail, transport and logistics, IT services, chemicals, media, and construction. Daniel joined Mediterrania Capital as a Partner in 2014 and currently sits on the board of several portfolio companies managed by MC II and MC III. He is also a member of the Investment Committee of Mediterrania Capital Partners.
Before being part of the Mediterrania Capital Partners' team, Khaled Saba worked for EFG-Hermes, one of the leading Investment Banks in the MENA region offering banking services to retail and institutional clients. He also led Strategy at Orascom Telecom, one of the largest mobile telecommunications players in the region, where he executed several high-profile transactions in Iraq, Bangladesh, Italy, Belgium, Egypt, and Congo. Later, Khaled joined Beltone Financial, an Egypt-based financial institution specialized in the provision of investment banking services. In 2013, he launched EquiCorp Advisors, a boutique investment bank based in Cairo that holds multiple assignments in healthcare, food industries, and others. Khaled has been supporting Mediterrania Capital Partners since 2016 for MC III as the Senior Country Advisor for Egypt.