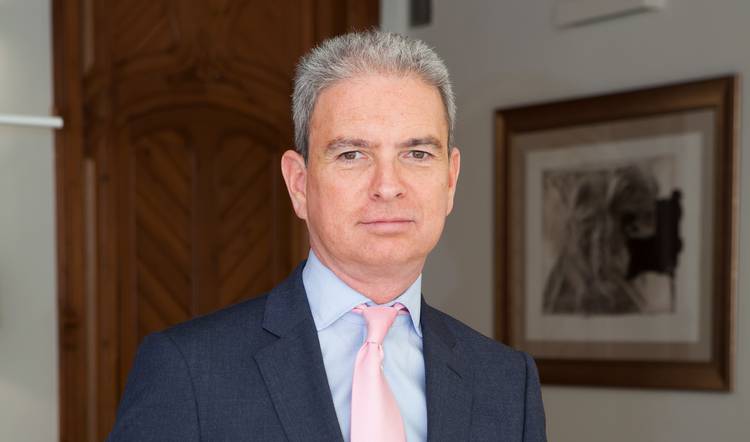 Analysis > Analysis and Strategy
Accelerating digital transformation in private Education
Word count: 1037
All around the world, Covid-19 has had a tremendous effect on education, closing schools for millions of students. In Africa, in particular, the school closures caused by the pandemic have exacerbated previously existing inequalities, and the children already most at risk of being excluded from a quality education have been the worst affected.
Receive ONE magazine and TWO locked articles of your choice for FREE when you register an account
All around the world, Covid-19 has had a tremendous effect on education, closing schools for millions of students. In Africa, in particular, the school closures caused by the pandemic have exacerbated previously existing inequalities, and the children already most at risk of being excluded from a quality education have been the worst affected.
The current economic contraction threatens the ability of African governments to invest in education at a time when it is most imperative. This will have long-term impacts on the future of Africa's labor force, which needs the skills gained through a high-quality, relevant education if it is to adapt to a digitized, fast-changing, and global world of work.
In this context, the private sector can play a key role by supporting education institutions as they develop the technologies and framework needed to shape and improve the learning experience on the continent.
Daniel Viñas, Partner at Mediterrania Capital Partners, gives his view on the current situation and explains how the private sector and development financial institutions (DFIs) continue to support schools and universities in Africa enabling their fast digital transformation.
When the Covid-19 crisis struck, Africa was in the middle of a far-reaching digital transformation. In recent years, the continent has seen the world's fastest rate of new broadband connections. E-commerce has also been growing quickly.
Despite this progress, however, most sectors of African societies and economies still lag behind the rest of the world in terms of digitalization.
The lockdown and social distancing measures enforced by the governments in most African countries has prompted a rapid response from hundreds of thousands of education institutions throughout the continent. Schools and universities that had the means immediately shifted to remote interaction and teaching via learning management systems and communication platforms. This initial phase was implemented quite quickly and efficiently.
At the beginning of the 2020/2021 academic year, educational institutions are now entering the second phase of this process, consisting of tackling the inherent challenges such as the need to improve their online curriculums and course navigation, enhance their solutions for holding examinations and strengthen their IT capacity and security while also maximizing student inclusion.
After the pandemic, the sector will then enter the third phase, which will be the most challenging for African education institutions: planning for the new reality, with distance learning (e-Learning) playing a more prominent role than classroom teaching.
Although solutions to the disruption have been both innovative and rapid, the fact remains that some schools and universities are better positioned than others to take advantage of the resources, technological infrastructure and education technology available and thereby respond to the crisis more effectively and comprehensively. Existing inequalities caused by limited access to technology and reliable internet connections have been aggravated.
Even within the schools and universities themselves, inequalities such as those affecting persons with disabilities or reduced family income often obstruct access to distance learning.Furthermore, these challenges are amplified for some teachers because of their own caregiving responsibilities and lack of access to technology and infrastructure.
Looking ahead in this new reality, African education institutions will need to adopt innovative approaches if they are to emerge from the global crisis in a stronger competitive position. Building for the new, post-Covid world will require a much more structured and broader assessment of capabilities and strategy in order to choose the right model.
Business models will have to focus more on digital distance and e-Learning capabilities. This must be combined with other factors such as improving operating efficiency and making acquisitions to strengthen competitiveness through consolidation and innovation. Now that the education sector needs the most attention and financial support, the current global crisis is adversely affecting the revenue of many schools and universities, and government budgets are significantly constrained. That is where the private sector can help. Over the last decade, the private sector and the DFIs have played an important role in the development of education institutions and platforms in Africa.
Mediterrania Capital Partners is firmly committed to continuing to be part of this non-governmental investment, which will remain critical for addressing the continent's immense education challenges and scaling up the delivery of education services through digital transformation.
Case studies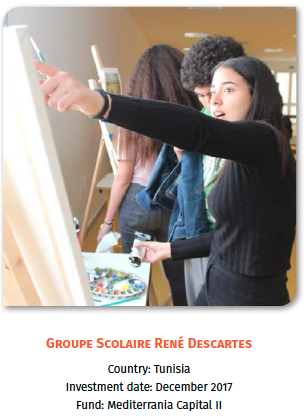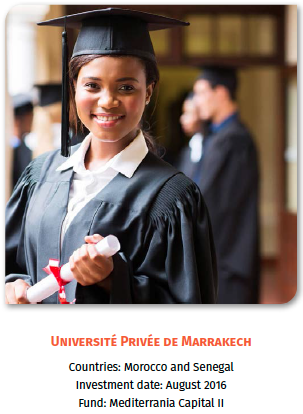 Groupe Scolaire René Descartes (GSRD) is a Tunisian group of private educational institutions specializing in French and Tunisian teaching programs from pre-primary school to high school and one of only three schools in Tunisia in partnership with the AEFE (Agency for French Education Abroad). Founded 28 years ago, GSRD welcomes more than 2,500 students at its various sites in the Ennasr and Berges du Lac neighborhood of Tunis. As a result of the lockdown measures brought by Covid-19, GSRD has accelerated its digital transformation plans to enable its programs to be taught online. Furthermore, in order to support students' families whose economies have been impacted by the pandemic, the group has established a partnership with Banque Zitouna to provide a solution for financing the children's tuition fees for the current scholastic year.
Founded in 2005, Université Privée de Marrakech (UPM) is the leading and largest state-recognized multidisciplinary providerof private higher education in Morocco. It offers more than 60 undergraduate, graduate and master's programs in six major fields: management and governance, tourism and hospitality management, engineering and innovation, health sciences, sports management, and the arts. UPM runs campuses in Marrakech, Casablanca and Dakar with a total capacity of 10,000+ students and residences housing 600+ students. The sudden enforcement of the lockdown and social distancing measures brought by the pandemic in mid-March forced UPM to adopt a variety of technology-based strategies as alternatives to the traditional classroom, providing lessons through videoconferencing and online learning platforms and sharing learning materials and worksheets through school-based intranets and messaging platforms.
About Mediterrania Capital Partners
Mediterrania Capital Partners is a dedicated Private Equity firm investing in consolidated SMEs and mid-cap companies in Africa. With offices in Abidjan, Algiers, Barcelona, Cairo, Casablanca and Valletta, Mediterrania Capital Partners takes a proactive, hands-on approach to implementing the growth strategy of its portfolio companies by driving the Value Creation and ESG processes. Today,the group companies and portfolio companies of Mediterrania Capital Partners deliver over €1.5 billion in annual revenues and employ more than 20,000 people in Africa.
Press enquiries: communications@mcapitalp.com