News > People Moves
LeapFrog makes three leadership appointments
Word count: 354
LeapFrog Investments has elevated three emerging market leaders to its Management Committee and Board.
Choose ONE Magazine and TWO Articles for FREE when you register an account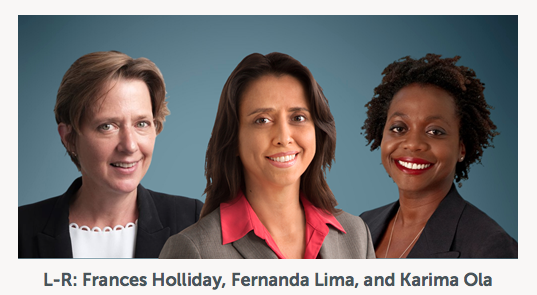 LeapFrog Investments has elevated three emerging market leaders to its Management Committee and Board.
Fernanda Lima, Karima Ola and Frances Holliday will play key governance roles as LeapFrog pursues continued outsized returns and impact for investors and portfolio companies.
All three leaders contributed significantly to the raise of LeapFrog's record-breaking $743m impact investing fund for emerging Asia and Africa last year.
Lima has been elected a partner of the firm and joins the Management Committee, bringing two decades of investment experience in financial services across emerging markets.
As LeapFrog's Director of Investments in Asia, Lima has been responsible for successful investments including SoftLogic Life, now Sri Lanka's fastest-growing and third-largest life insurer, and Fincare Small Finance Bank, which has grown to reach 2.7 million underserved women in India with financial tools.
Ola has been elected a member of the Management Board, bringing over two decades of experience as a CIO, investment banker and principal investor in emerging markets.
Ola led LeapFrog's Africa Financial Services team for the past five years.
Under her leadership, LeapFrog successfully invested in diverse companies including ARM Pensions, one of the largest pension providers in Nigeria, and AIICO Insurance, the second-largest life insurer in Nigeria.
Holliday, the firm's General Counsel, has been appointed an ex-officio member of the Management Board.
Her current operational responsibilities at LeapFrog span eight offices globally and dozens of portfolio companies.
Holliday brings two decades of experience in complex deal structuring and cross-border mergers and acquisitions in emerging markets, as both a general counsel and external counsel.
The elevation of the three longstanding leaders supports LeapFrog's continued commitment to excellent governance, strong returns for investors and achieving the firm's goal of reaching one billion people with essential services by 2030.
Dr Andy Kuper, founder and CEO of LeapFrog Investments, said: "The exceptional track records and experience of these leaders have enabled LeapFrog to stay at the forefront of emerging markets private equity as well as impact investing. We are proud to see internal talent recognised for their outstanding contributions and empowered to drive LeapFrog's continued growth as the leader in Profit with Purpose investment."