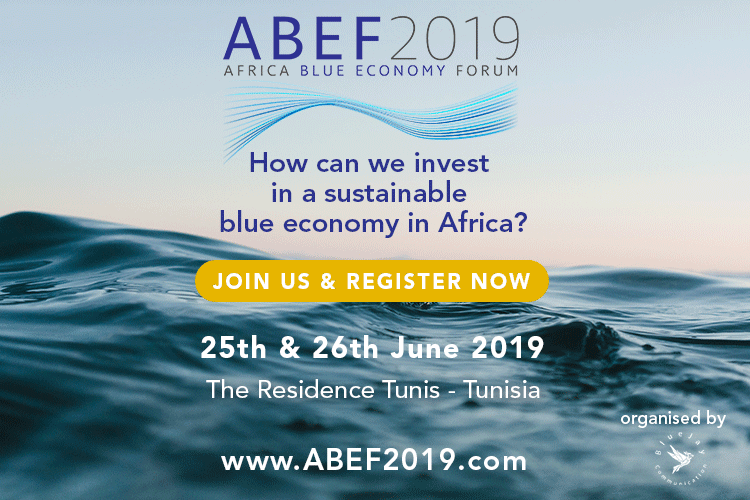 Africa Blue Economy Forum
Africa Blue Economy Forum (ABEF), 25-26 June 2019, The Residence Tunis hotel, Tunisia
On 25 – 26 June 2019, Blue Jay Communication will host the second edition of the Africa Blue Economy Forum (ABEF). Taking place in Tunis this year, the event will gather 150+ delegatesfrom across the globe, including ocean experts and innovators, African political leaders and policy makers, international entrepreneurs and investors, as well as NGOs and multilaterals.
Once again, the forum will provide a unique platform for ocean stakeholders to share insights on how to achieve SDG 14 and present new investment opportunities, while facilitating public-private partnerships and networking.
As a key driver for global trade and commerce and a major source of food and energy (90% of world trade and 2/3 of energy supplies are carried by sea), the ocean has every reason to become a strong economic force and even more so in Africa where more than 70% of the states are coastal.
ABEF recognises the importance of the Blue Economy in creating jobs, sustaining livelihoods for local communities and offering low-cost impactful climate change adaptation solutions on the continent.
Last year, during the forum's inauguration, speakers and delegates at ABEF2018 agreed on the needfor innovative financing to start developing Africa's blue economy on a wider scale, involving not onlygovernments but also the private sector. Building on these recommendations, ABEF2019 will have astrong focus on business and investment. Discussions will explore the opportunities and innovations in emerging and frontier sectors of the blue economy and how they can help accelerate Africa'stransformation.
In particular, ABEF panel topics will include: Public-private partnerships; Fishing & Aquaculture; Ports & Trade; Ocean Energy; Governance & Security; Pollution & Waste Management; Women Empowerment; Youth Education & Technology; and Ocean Financing.
To receive further information, please visit our website: www.abef2019.com and follow us on Twitter: @bluejaycom  #ABEF2019
Why attend?
- Insider access to government leaders and ocean and sustainability experts
- Cutting-edge dialogue assessing today's pressing issues to achieve SDG 14
- High-level insights from thoughtful leaders and action-oriented discussions
- Case studies sharing practical experiences and solutions from the field
- Presentation of investment opportunities in traditional and emerging ocean industries
- Introductions facilitating partnerships with African and international experts to achieve
sustainable best practices
- Expanded networking opportunities