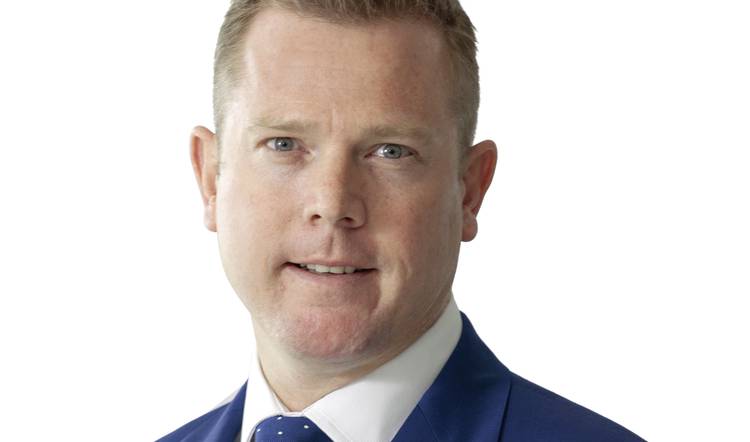 Analysis > Interviews
Out of the Ordinary
Word count: 1840
Hamish James, Investec's Head of Prime Services, tells AGF about Investec Prime, developments in the past year, fintech and SA hedge fund industry 
Receive ONE magazine and TWO locked articles of your choice for FREE when you register an account
Hamish James, Investec's Head of Prime Services, tells AGF about Investec Prime, developments in the past year, fintech and SA hedge fund industry 
Africa Global Funds (AGF): Hamish, please briefly tell us about Investec Prime Services and your offering.
Hamish James (HJ): Prime Services operates within the Investec Corporate and Institutional Banking (ICIB) division at Investec Bank and forms part of the wider Equities Cluster. We believe in providing clients with customised solutions which suit their specific risk appetite, investment strategies and requirements within the following boutique suite of services: 
Global Execution 
Global Prime Broking - Custody and Reporting Services
Global Research and Corporate access
Clearing Services (JSE)
Securities Lending (JSE)
Asset Backed Lending
Capital Introductions
Multi-Asset Sales and Distribution
These services are underpinned by a global, multi-asset class, multi-currency reporting and technology platform that scales with our clients as they expand into new strategies, markets and products. Our clients benefit from a single point of contact via an experienced, dedicated and specialist team of professionals, allowing them to focus on providing the best returns for their clients whilst Investec Prime takes care of everything else.
AGF: Who are your clients?
HJ: We are very privileged to partner with a diverse client base, covering Hedge Funds, Financial Intermediaries and Corporates, who are based both in South Africa and various locations internationally. We serve over 120 funds investing across 17 markets in Africa and more than 50 globally.
AGF: How has your offering developed over the past year?
HJ: Our core focus over the past year has been looking at ways to reduce costs for our clients, whether this be through automation of services or looking at how we drive efficiencies' for the ultimate benefit of our underlying clients.
Another important area has been looking at how we best leverage Investec's strong IFA intermediary networks (alongside our existing Institutional allocators) with a view to helping drive awareness and make introductions, ultimately leading to increased allocations from this important channel of funding.
We believe strongly in taking a partnership approach with our clients, regardless of size. This has helped us build lasting relationships with up and coming managers who are now starting to deliver consistent returns and grow their assets. We believe in offering the right platform to help them out perform, whether it be through the latest technology and reporting services or our dedicated Capital raising events.
"Out of the Ordinary" client service remains central to our DNA. Our clients know that we will always go beyond the extra mile to find solutions to help facilitate growth and product innovation and we continue to look at how we can improve their overall user experience with our brand.
AGF: What innovative products have you launched this year?
HJ: Investec has managed to create the following new products and enhancements in the past:
PML - advancing of individual loans against equity collateral – allowing clients to monetize South African portfolios. This has been expanded further into our Africa/Frontiers business as well, allowing for clients to loan USD against their investment portfolios
Currency collateralised hedging – facilitate the advancement of a portfolio credit line, to trade in South African listed assets, for clients who can place USD (or other) hard currency denominated collateral with the group, typically in an offshore jurisdiction. The amount advanced domestically is typically based on a Loan to Value (LTV) concept, based off the value and quality / liquidity of the collateral provided by the client. In as much as the investor or client is an offshore entity investing in SA assets, a certain amount of FX risk is inherent in this transaction or process. These risks can be efficiently hedged out, by using the listed FX Derivatives Market of the JSE (Johannesburg Securities Exchange) and cleared through us. This effectively allows the clients to provide securities or currency collateral to service their exchange derivative positions initial and variation margin requirements.
For OTC clearing, our trading and derivative operations team are investigating the opportunity of offering CFD's based on currency pairs and international equity which will provide our clients the ability to take advantage of low-cost market exposure and place a margin of only a fraction of the value of the international shares & currency pairs that the end client looks to have exposure over.
Execution capabilities - a number of new markets have been added to our coverage.
Technology enhancements - as a business, we feel that with the ever-changing regulatory environment, continued investment in our technology offering will be a key differentiator to dealing with new challenges and opportunities. 
AGF: How important is financial technology for your business? 
HJ: South Africa is well placed to take advantage of a growing fintech industry with players mainly focused on five key banking functions: payments, deposits and lending, capital raising, investment management and market provisioning. Market demand for innovative products and services will continue to push fintech advancements in South Africa. As a business, it is of critical importance that we remain flexible and nimble in order to stay abreast of the rapid changes taking place in this area. 
AGF: What are some of the fintech developments that you've recently implemented?
HJ: Inside the Investec Prime Services business, we utilise a mix of both in-house systems as well as ensuring that we partner with internationally recognised technology service providers who are able to meet the requirements of our clients as they scale into new strategies, markets and products. Growing with our clients ever changing requests is of utmost importance to the long-term survival of our business.
AGF: According to ASISA, the South African hedge fund industry ended 2017 with AUM of R62.4bn, a decline of R5bn from the R67.4bn managed at the end of 2016 - the first decline in AUM since 2011. How has this affected your business?
HJ: The past 18-24 months has not been easy with some funds losing assets, whether it be due to poor performance or a reduction in allocations from the institutional investor mandates. Historically, allocations used to be between 5 – 10% but more recently, probably closer around the 2-5% mark. 
Unfortunately, there has also been a great deal of negative press surrounding hedge funds in South Africa this past year, which, in my opinion is a bit unfounded when looking at them as an investment vehicle over a longer time horizon (i.e. not just the past two years). 
Poor fund performance, mainly by the larger equity long/short funds, resulted in investors withdrawing capital and moving it to more traditional asset classes. It is important, however, to keep in mind that there are so many sub-strategies and a vast array of very good managers in South Africa so the Hedge Fund industry as a whole should not be viewed alongside performance in one particular asset class or strategy. For instance, some fixed-income hedge funds, have performed incredibly well over this same time horizon.
From a business perspective, we are fortunate in that we have quite a diversified product offering. When one business gets impacted by lower volumes, we often see a pick-up in other areas which we benefit from, allowing for smoother, less volatile spikes in our revenues. It is important to never rest on ones laurels however and in a market environment such as this it forces us to continually look at what else we can and should be doing to remain relevant. 
AGF: Are you seeing a lot of consolidation in the hedge fund industry? What's your outlook for the industry?
HJ: The implementation of the new regulations led to some hedge fund managers consolidating their product offering. By the end of December 2017, 99% of hedge fund assets had transitioned over to these new regulated structures, QIF's with roughly 70% of hedge fund assets and 30% into RIF's. 
You also have to look at the current South African political landscape and be mindful that international investors are taking a wait and hold approach. We are of the view that many internationals are still significantly underweight South Africa and we expect trade volumes to remain subdued until there is a bit more certainty and confidence around local policy. 
Many participants hoped that the regulation of hedge funds would see new assets flowing into the industry, but unfortunately this has not transpired. The regulatory burden has been onerous and costly for many without the compensation of the expected, additional asset allocations. As with any sector, there will always be a natural attrition rate. That said, we are also not seeing a huge amount of new startups due to the expenses associated with being able to stick it out and build a three year track record. Having access to working or seed capital is critical.
Some managers were also caught off guard by the unexpected strength of the rand in 2016 and 2017, alongside fallout of Steinhoff and Resilient to name a few, which unfortunately led to a few funds having to close as well. As with everything, consistent and positive returns remain key. At the end of the day, this is the only currency that matters to investors in these volatile markets. Managers need to prove this before they will be in the running for sizeable allocations.
I think it will be critical for the longer term growth of this industry that the IFA market place are able to utilise their existing tools to gain access to deploy the assets they manage into these investment strategies through the various LISP platforms. This will be important in order to grow the industry asset base. This is where the regulations should be of particular importance as it provides a much-needed structure for making hedge funds marketable to new investors. Long-only Africa funds should also be considered as part of building a diversified investment portfolio with these strategies experiencing some positive gains in 2017, early 2018. 
The South African Hedge Fund industry is still small, but it has the potential to be a key role player in the South African savings industry.
AGF: What are your business objectives over the next 12 months?
HJ: Our core objectives fall into the following key strategic priorities:
Focus on our clients – whether this be helping to raise assets, assist startups, solve for unseen challenges or build product – clients and their needs have to remain front of mind. 
Our people and our culture – maintaining an entrepreneurial spirit allows for a differentiated approach in the way that we work with our clients, delivering individual and bespoke solutions to cater for their needs. Our culture and our people are our competitive edge and it is what differentiates from the other generic products and services.
Collaboration and leveraging off our international capabilities 
Digitization - use of technology is key, continued focus on automation of processes, better utilisation of existing systems to improve on overall client interaction and experience and most importantly drive down costs for the ultimate benefit of our end users.