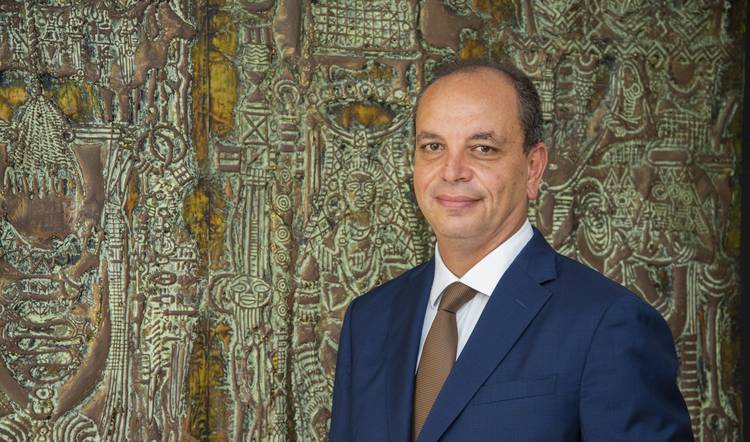 Analysis > Interviews
Meeting with Sameh Shenouda
Word count: 2312
In February, Africa Finance Corporation, one of the biggest investors in infrastructure solutions in Africa, appointed new Executive Director and Chief Investment Officer, Sameh Shenouda. AGF's Anna Lyudvig speaks with Mr. Shenouda about his investment philosophy, experience, infrastructure trends and more
Receive ONE magazine and TWO locked articles of your choice for FREE when you register an account
In February, Africa Finance Corporation, one of the biggest investors in infrastructure solutions in Africa, appointed new Executive Director and Chief Investment Officer, Sameh Shenouda. AGF's Anna Lyudvig speaks with Mr. Shenouda about his investment philosophy, experience, infrastructure trends and more
Anna Lyudvig (AL): Please tell us about yourself and your investment philosophy?
Sameh Shenouda (SS): I am a proud Egyptian and African. All of my career has been Africa and infrastructure focused. I am passionate about finding solutions to improve people's quality of life through private sector participation, through commercial profitable ventures.
My investment philosophy is simple: Partnering with the right like-minded partners and stakeholders to build successful businesses and projects is a key principle of growing any successful company. This means thinking strategically and looking to solutions for the whole supply chain rather than single stand-alone assets. Always look for new ideas, new initiatives and new opportunities. Build your network and relationships. Surround yourself with smart ambitious people. Your strength is in your team's strength.
In a nutshell, my philosophy is simple: Doing good while doing well!
AL: I know you have decades of experience. How did that prepare you for the disruption of 2020?
SS: Nothing has prepared any of us for the disruption of 2020. It was quite unlike the financial crisis of 2008, or even the great depression of the 1930s. It has been challenging for all economies, investors, policy makers, industrialists, to name but a few, driven largely by concerns around rising cases and anticipation for the vaccine, news of which has supported improved investor sentiment.
However, it has also unlocked opportunities that can reposition the continent for better, whilst changing behaviors needed to accelerate delivery of projects, which has long been a challenge.
Whilst at Zarou, a 100% Blackstone backed venture launched to invest in infrastructure assets across Africa and the Middle East and CDC Group, the UK Development Finance Institution, as head of infrastructure, I have lived and breathed infrastructure in the toughest markets. This has very much shaped my thinking to innovate around the challenges and to seek opportunities amidst those difficulties.
AL: Are you planning to change anything in the current AFC's investment strategy?
SS: It is important to build on the core investment thesis of AFC as our mandate is clear - to unlock economic development on the continent through infrastructure and industrial solutions.
We will continue to invest in our core sectors being mining, power, oil & gas, telecoms & technology, transport & logistics and heavy industries, as they are the right sectors, being the drivers for economic growth and development.
There is however more to be done, including a greater focus on certain sub sectors in line with the key trends and opportunities we see. For instance, in the power sector, a key focus is renewables in line with the green revolution and good resource availability on several parts of the continent. Another example is digitalization & technology within the telecoms sector. Yet another is focusing on gas and midstream in addition to the current upstream and downstream focus. A further example is focusing on storage opportunities within transport & logistics. There is also the need to diversify geographical footprint.
Although we have invested in 35 countries, including Tunisia, Egypt and Morocco, we need to continue to expand our base – in North Africa, for instance.
AL: How can you leverage your role as a CIO to transform AFC?
SS: I will be leveraging on AFCs unique ability to play across the capital structure, providing early stake project development, equity, quasi-equity, debt to private sector led projects supported by our syndications and advisory services, and sovereign lending solutions to governments.
AFC has already invested in over $8.5bn in projects in 35 countries since 2007, catalyzing billions through our participation, and therefore has the track record to do more, and we will continue to leverage on this, working with partners.
We have co-invested alongside several partners including AP Moller Capital, FMO, AfreximBank, African Development Bank, EDF, Olam, Shell, Standard Chartered Bank, AIIM, Trade Development Bank, to mention just a few. We will continue to partner with development finance institutions, other financial institutions, private equity firms and blue chip corporates, to do more.
We will continue to leverage on our deep market and sector knowledge and expertise to provide a channel for investors to have exposure to the continent's infrastructure opportunities.
We will continue to leverage on our investing expertise, agility and flexibility in closing deals and managing our portfolios to attract additional funding from the market and achieve exits through sell downs to third party capital to be able to do more.
AL: What are the most dominant infrastructure trends that investors should look for?
SS: If you take the disruptions in supply that happened between China and Europe and Europe and the US, and how dependent they were on certain manufacturers, it's an opportunity for Africa to develop its own raw materials and build the manufacturing base that produce final products to export to Europe and other neighbouring countries. An example is our ARISE investment where we have successfully focused on value addition and continue to do so through our platform investing approach and focus on creating ecosystems or an oasis of excellence with integrated infrastructure to address the entire value chain for delivery of projects. We see a need for this trend to be applied in the mining space, for instance. AFC invested in a bauxite mine in Guinea in 2017. However, now the bauxite is shipped to China where it is transformed and then exported, in some cases back to Africa. This is the also case with our manganese mine in Gabon. As countries and companies become more account- able for their carbon footprints, it will make both business and environmental sense to produce locally.
The new climate focus across the financial world will probably mean a surplus of capital chasing limited bankable deals in green energy on the continent. It is also very important to leverage on natural resources available in countries, including fossil fuels. The challenge is how to get to 20 per cent of our capacity from renewables and how to deliver the conventional power projects in the cleanest most efficient way.
While some countries are stretched by rising debt levels, privatisations will provide revenues for governments. It is important to support governments in line with their national development plans and step in where the opportunities show themselves.
A key trend is that commodity prices generally are on the mend, with increasing opportunities for gas processing for domestic consumption, export or gas to power, especially in countries with prolific proven reserves, such as Nigeria and Senegal, which AFC will continue to explore.
AL: Do you have any advice on how investors should be thinking about investing in different infrastructure sectors in Africa?
SS: Investors need to follow the likes of AFC in taking the lead on projects and early stake risk by providing project development capital and structuring expertise, in other words handling the project through to bankability and financial close. There is a dearth of bankable projects in Africa, and project development is the key, with AFC being the leader, demonstrating this in the power space through our many "firsts": the 350MW cenpower gas to power project; 60MW wind project in Djibouti; in the mining space, our 10million mtpa bauxite mine in Guinea; a gas pipeline in the oil and gas space and a refinery and storage terminal in West Africa in the heavy industry sector.
It is important to keep an open mind and scour the opportunities on the continent on a country by country level. Africa is often viewed as monolithic while, in truth, there is diversity in the economic landscapes, ways of doing business, and opportunities. It is thus important to find strong "local"partners such as the AFC who have a deep understanding of these dynamics on the continent to enable investors do more. At the heart of it is tracking the trends, and providing the flexibility for liquidity to play across the capital structure. Investments in intermediaries such as the likes of AFC through equity and lines of credit can also provide exposure to the continent whilst taking the credit risk of highly rated entities. AFC is A3 rated by Moody's, for instance, the second highest rated entity in Africa.
AL: Where do you see investment opportunities at the moment? (countries / infrastructure sectors)
SS: In power, investors are interested in opportunities in green energy on the continent, but have been unable to spend time scouting out relatively small 50-60 megawatt projects. So, AFC will deliver an opportunity that gives them higher returns and access to a market they haven't cracked yet through bundling new and existing solar, wind and hydro projects in several African countries into a new platform, with combined generating capacity of 1-2 gigawatts of renewable energy.
In transport and logistics, the focus has very much been on ports, tank farms, airports, and roads, which we will continue to do. In addition, the sector is set to expand to capture more logistics and warehousing, with linkages to the growth of e-commerce through e-logistics and e-mobility solutions.
Backward integration to drive the beneficiation of raw materials is key, including the focus on the enabling infrastructure, i.e. clean power and transport & logistics supporting our ecosystem approach. An example of this has been our successful ARISE business, with the wood based Nkok Special economic zone, that has put Gabon on the map as the second biggest exporter of veneer in Africa. The zone provides end to end support from timber sourcing to provision of ready land for processing, to marketing and commercialization, and export services through the general cargo port, operated by ARISE. We continue to support this value addition play in other countries through the ARISE platform including the cashew and cotton based SEZs in Togo and Benin.
In telecoms, with the rapid digitisation of both the private and public sector, data centres and other ancillary services are all on the radar.
Partnerships with governments are also key in supporting their national development plans and ambitions. COVID-19 has meant that government reserves and balance sheets have been stretched, shifting focus on priority sectors such as healthcare that have become constrained. This leaves little for government to invest in infrastructure and industry, which are core to supporting the economic recovery. As such, private sector has to look to increasingly support governments through innovative sovereign lending solutions and public-private partnerships. AFC is leading this through its product solutions desk, focusing on sovereign lending and off balance sheet structures. Two recent important transactions are supporting the government of Cote D'Ivoire primarily in its roads program and the government of Tanzania on its water, social infrastructure and transport projects. In addition, the partnership with the Nigerian government on its infrastructure vehicle is another such important initiative co-led by the Central Bank of Nigeria (a 42% shareholder in AFC) and the Nigeria Sovereign Investment Authority (NSIA). With initial seed capital of N1tn ($2.5bn), from the promoters, the government expects it to grow to N15trn within a few years. InfraCorp, as it is named, will focus on delivering public and private sector projects from origination through to portfolio management and exits. Nigeria is the largest economy in Africa and it has the largest population but it has a significant infrastructure deficit. This requires capital and expertise to bridge, which InfraCorp can provide.
AL: What do you think is the biggest risk facing infrastructure investment portfolios today and how are you managing it?
SS: The impact of Covid-19 and the collapse of some commodities will add to the risk premium associated with the continent – whether justified or not. The continuing effect of climate change on the environment and sustainability of projects is a challenge that needs to be managed. The impacts from Covid-19 have created market conditions that led to the collapse of certain industries, and constraints in the financial performance of companies in other industries. Therefore, a close interaction with clients in such industries has been critical in supporting them re-position to take advantage of new opportunities and set them on the path to recovery. We also continue to explore ways of achieving value accretion on our portfolio assets, to position them for exits in order to recycle capital to achieve more. Economic hardship in countries will continue to put pressure on the socio-political dynamic, which needs to be managed by better and more rigorous sustainability principles in investing. Investing in the green revolution will be key. Governments also need to be supported to invest in social and hard infrastructure to support economic recovery in their countries. Integrated plays through beneficiation and ecosystem investing in the mining space will be critical.
AL: Where do you see the industry heading in the next three to five years?
SS: The trends mentioned above will very much continue into the next 3-5 years and will shape the way we see the sectors. Given Covid-19, the dynamic is evolving and we will need to continue to track the trends and stay ahead.
AL: What can we expect from AFC in the next 12 months?
SS: Crystallization and delivery of some of the key opportunities that I mentioned earlier. It is an exciting time for us as we are perfectly poised to transform infrastructure investment in Africa, because of our track record, our innovative approach, our deep market knowledge, key global and local relationships, and, importantly, the diversity of solutions we can offer clients – project development, debt, equity and everything in between.
AL: What are your longer-term goals and aspirations for AFC?
SS: AFC will have $10bn of funds under management in the next five years, up from $7bn today, and become the leading infrastructure solutions provider on the continent, catalyzing the economic development of African nations.
AL: Thank you!