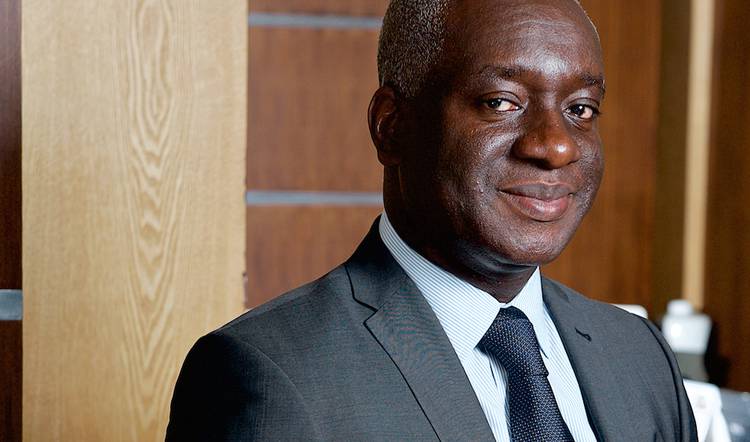 Analysis > Interviews
Meeting with Felix Adahi Bikpo
Word count: 1197
Africa Global Funds' Anna Lyudvig sits down with Felix Adahi Bikpo, Chief Executive Officer of the African Guarantee Fund, a pan-African non-bank financial institution, which aims to promote economic development, increase employment and reduce poverty in Africa to discuss the Fund, African growth prospects and agreement with GuarantCo.
Receive ONE magazine and TWO locked articles of your choice for FREE when you register an account
Africa Global Funds' Anna Lyudvig sits down with Felix Adahi Bikpo, Chief Executive Officer of the African Guarantee Fund, a pan-African non-bank financial institution, which aims to promote economic development, increase employment and reduce poverty in Africa to discuss the Fund, African growth prospects and agreement with GuarantCo.
Anna Lyudvig (AL): Felix, please tell us about the Africa Guarantee Fund, its role and mission.
Felix Adahi Bikpo (FB): The African Guarantee Fund (AGF) was initiated in 2011 as a limited shareholding company, with registration in Mauritius and operational headquarters in Nairobi. Its purpose is to contribute to economic growth in Africa by enhancing small and medium-sized enterprises' access to finance. This is done through provision of loan, fundraising and equity guarantees to financial institutions for onward lending to SMEs. In addition, AGF provides capacity development assistance to partner financial institutions to enhance their capacity for risk mitigation and business development for their SME portfolio.
AL: What's your view on Africa's growth prospects?
FB: Despite a challenging past couple of years, the outlook of the African economy is projected to improve with positive growth in output. Africa's economic recovery is expected to be driven by a gradual improvement in the continent's largest economies and commodity prices stabilization.
A good performance is expected in 2020, but at 3.2% a year, growth will be below the level needed to propel average incomes and living standards rapidly. Indeed, by 2020, GDP per head at purchasing power parity exchange rates will have barely improved from 2015 levels in many countries. A possible global recovery at the turn of the next decade driven by domestic demand will certainly boost African economic growth, but with probably less intense scale than during the previous decade.
In this environment, the role of the AGF becomes more than crucial. Since our incorporation, our purpose has been clear. We are here to help the private sector, mainly the SMEs, to really play the role of engine drivers of sustainable growth and to be a source of employment, skills and wealth creation. In turn, this will help to reduce poverty throughout the continent. We are confident that properly funded SMEs can help drive the economies of African countries to greater heights. 
AL: Please tell us about AGF's recent achievements? 
FB: Despite our short history, we have a lot to be proud of. At the start of this month, we entered into a partnership with GuarantCo via a re-guarantee transaction of $74m. This will notably increase our guarantee capacity for SME financing, exclusively within the infrastructure space which we view as a vital sector to enable Africa to compete at a global level.
In addition, at the end of last year we  received an Insurance Financial Strength (IFS) rating of 'AA-' (very strong) by globally renowned Fitch Ratings. This is the first time a guarantee fund in Africa has been assigned this status and we are the second Africa-based Financial Institution – after the AAA of African Development Bank, who are one of our shareholders – to be recognised in this way.
Statistically speaking, we are present in 38 countries in Africa (after an initial focus of 9); we have issued guarantees of up to $690m, which has enabled our over 100 partner financial institutions to issue loans estimated at $729m to about 7600 African SMEs. We are also well on our way to creating 30,000 jobs per year by 2022. Finally, with climate change being a key area of focus globally, we partnered with the Nordic Development Fund to launch a Green Guarantee Facility to contribute towards COP21 goals and objectives.
AL: How big is the need for SMEs lending?
FB: The development of SMEs is one of the principal solutions to the growth challenges faced by African countries. These businesses are recognized as one of the key drivers of growth and job creation in every modern economy around the world. They account for more than 98% of businesses and two thirds of jobs in developed markets. On the African continent, we have the potential to match and surpass that, but the reality is that we still have a long way to go and SMEs account for less than 25% of our economies.
The biggest constraint that SMEs face is the lack of or inadequate access to financing, since financial institutions perceive them as risky to lend to and that is the gap that we seek to fill, as we are convinced of the greater impact that SMEs can have at all socioeconomic levels in Africa. 
AL: How do you make a difference in bank lending and how has this benefited African SMEs? 
FB: We play an advisory and enhancement role to banks in their execution of SME banking strategies.
The biggest differentiator we have is that a majority of existing funds are largely government owned, while AGF is a privately owned company with an ownership structure that provides for a mix of both public and private resources. AGF also has a product variety that ensures all aspects of access to finance for SMEs are addressed, including debt or equity capital access, covering both short and long-term requirements.
AL: You have recently signed an agreement with GuarantCo, a UK government initiative to tackle financing constraints. Can you touch a bit on that? And why is it important?
FB: This partnership is important as it increases the level of support to SMEs active in the infrastructure sector in Africa. This collaboration between two local currency focussed guarantors offers the potential for us to engage even more local financial institutions and put in place an even stronger collaboration that will work on the entire value chain of infrastructure projects in Africa. 
AL: What are the social impacts associated with AGF guarantees?
FB: Our Partner Financial Institutions (PFIs) are critical channels for us to reach our primary target – the SMEs. Via our strategic partnerships, we have facilitated access to loans for over 7,000 SMEs, helping them to create more than 35,000 additional jobs. 
We also encourage active participation of women and youth in ownership and management of SMEs. At the end of 2016, 30% of the SMEs that we supported were owned or led by women, while 60% were owned or led by youth.
AL: How do you raise capital for the Fund and what are your capital raising plans for this year?
FB: We raise capital from Development Financial Institutions (DFIs), private socially minded organizations, philanthropic organizations and Governments. 
Raising additional capital will be a critical success factor in the execution of our strategy and lending programmes.  We therefore plan to raise USD 420 million using a Blended Finance mechanism over the next 3 years with a target of USD 120 million for this year. 
AL: What are you plans/objectives for this year?
FB: We continue to share the responsibility with others in the financial community to foster sustainable and inclusive growth. Our 5 year strategy is to 1) Ease the access of $1.6bn of financing at an average tenor of five years; 2) Support 10,000 SMEs per annum and 3) Create approximately 30,000 jobs per annum.
AL: Thank you, Felix!