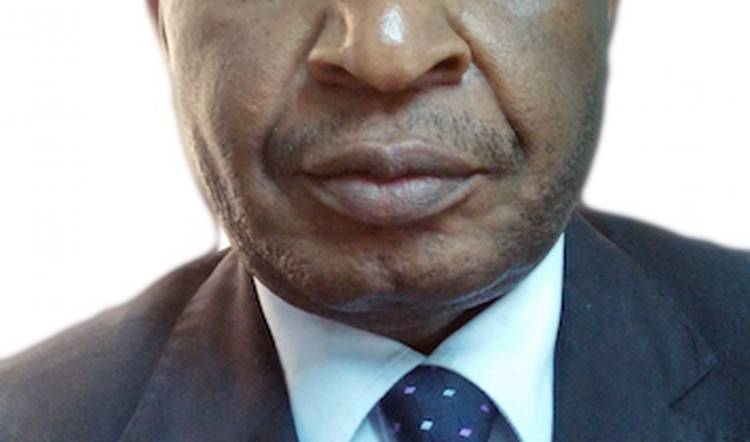 Analysis > Interviews
Kenya's pension fund industry
Word count: 650
AGF's Anna Lyudvig speaks with David Kitawi Mwakitele, Director in charge of Business Development and Strategy at Seriani Asset Managers, on the state of the Kenyan pension fund industry
Receive ONE magazine and TWO locked articles of your choice for FREE when you register an account
AGF's Anna Lyudvig speaks with David Kitawi Mwakitele, Director in charge of Business Development and Strategy at Seriani Asset Managers, on the state of the Kenyan pension fund industry
The Kenyan pension industry continues to grow, according to David Kitawi Mwakitele, Director in charge of Business Development and Strategy at Seriani Asset Managers. Mwakitele, who was previously Pension Fund Manager at Dry Associates, says that the assets under management as at December 31, 2015 stood at KES 814.11bn ($8.05bn), a 3.3% growth from the previous year (KES 788.15bn). "There are currently 29 administrators, 20 fund managers and 11 custodians in the market," he says. 
The industry is regulated by the Retirements Benefits Authority (RBA), which has a list of asset classes that registered schemes may invest in. The limits, as indicated, are the maximum a registered scheme may hold at any particular time (see the corresponding table).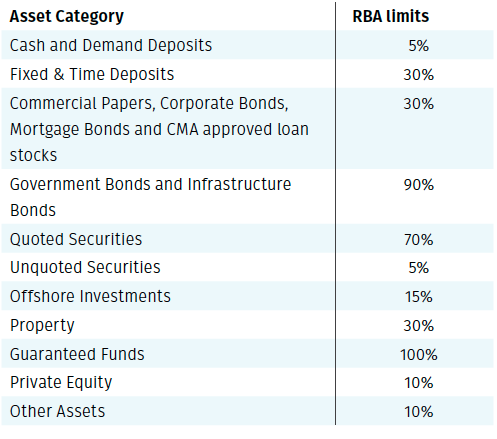 Based on a survey by the Actuarial Services Company, as of December 2015, the average asset allocation of Kenyan pension funds was as follows: Fixed Income (69%), Equity (25%), Property (4%), Offshore (2%) and Cash (1%).  
Mwakitele explains: "Most schemes in Kenya are tilted towards fixed income instruments and this is because such assets offer safety of capital and earn a reasonable return to safeguard pensioners against inflation."  
"Registered Schemes can invest outside Kenya up to 15% of the fund value and as indicated above, on average 2% of funds are invested offshore," he adds. 
When asked about allocation to private equity, Mwakitele says that the 'Private Equity' and 'Joint Ventures' initially fell under the "other assets", adding that Private Equity has been allocated a class on its own since 2015: "However, the appetite for these has been minimal."  
"In my view this is partly due to the riskiness of PE investments and the fact that this is a new asset class. That said, Trustees who are the legal owners of the Scheme are yet to embrace this class mainly due to lack of understanding of the class. Further, fund managers are guided by the Investment Policy of the Scheme which is a Trustee document which projects their investment preferences," he adds. 
More M&A to come 
Mwakitele along with four partners have applied for and obtained a license from the Capital Markets Authority to start their own fund management company, Seriani Asset Managers, which became operational on July 4 this year. 
"Our strategy is to initially focus on advisory services for both corporate and individual clients by offering unit trusts, fixed deposits placements, wealth management for high net worth individuals, advisory services to registered pension schemes and later fund management for pension schemes," says Mwakitele. 
He adds there is much emphasis is being placed on pension at present: "More investment avenues besides the traditional ones are opening up and majority of Kenyans are beginning to appreciate the importance of saving for retirement."  
"The NSSF Act 2013 which more or less makes it compulsory for Kenyans to save for retirement will hopefully be operational soon. In five years, the industry is more likely to gain traction as more and more people embrace the idea of retirement saving," he says. 
Mwakitele believes there are enough fund managers in Kenya serving the industry, though he doesn't rule out more mergers and acquisitions in the foreseeable future as some have already taken place. 
"Old Mutual, one of the larger fund managers, bought a majority stake in UAP Holdings in 2015. Centum Investments bought a controlling stake in Genesis Investments too. Centum owns Nabo Capital, who are also fund managers," he says. 
"I expect further consolidation because what we currently have is a situation where the top four or five fund managers control about 80% of the market with the rest sharing the remainder," he concludes.