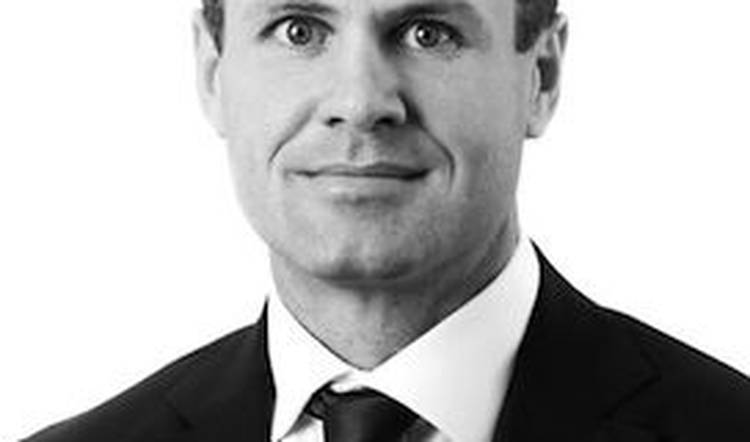 Analysis > Analysis and Strategy
Value Investing
Word count: 1433
Over the long term value investing has proven to outperform other investment approaches, argues Jan van Niekerk, Chief Investment Officer of value-based asset manager RECM
Receive ONE magazine and TWO locked articles of your choice for FREE when you register an account
Over the long term value investing has proven to outperform other investment approaches, argues Jan van Niekerk, Chief Investment Officer of value-based asset manager RECM
Investors and market participants have lately been concluding that value investing is dead. While we firmly believe that value investing is alive and well and we are as committed to it as ever, we have seen some other prior value investors fall by the wayside or change their strategies to other approaches that have delivered stronger performance in recent times.
This is not abnormal. Over the years, value investment managers and their strategies have fallen out of favour from time to time. This is unfortunate as the reality is that over the long term value investing has proven to outperform other investment approaches.
A very public example – Berkshire Hathaway, run by Warren Buffet – has outperformed the S&P 500 by a very significant margin over many years despite shorter periods of underperformance. Even in the last 20 years there have been three distinct periods where Mr Buffet's investment vehicle significantly underperformed the S&P – an indication of investors' perception of his investment progress. The corresponding chart shows Berkshire Hathaway's share price relative to the S&P 500 Index, with upward movements therefore indicating outperformance, and downward movements reflecting periods of relative underperformance.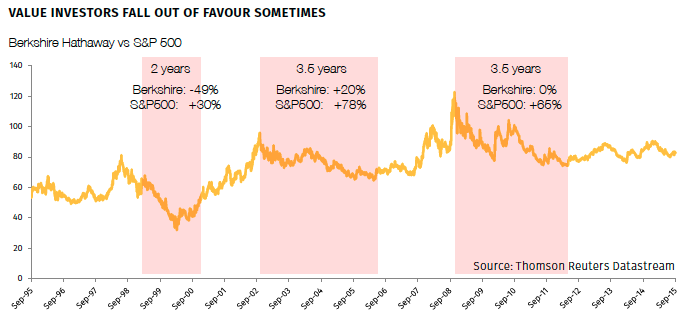 In the first period – from 1998 to 2000 – the difference in the total returns of Berkshire Hathaway and the S&P 500 was just shy of 80%. From 2002 to 2006 it was 60% and from 2008 to 2012 it was almost 65%. Yet despite these significant setbacks, Berkshire Hathaway has delivered more than double the performance of the S&P 500 over the full period.
It is also interesting to note that during the first period of underperformance above, Berkshire Hathaway's share price actually fell by 49% in the first two-year period while the S&P 500 index was up 30%. This is noteworthy because studies have shown that investors feel a loss two and half times more strongly than a gain of the same amount and that the brain reacts to losing money the same way it reacts to physical pain. So a negative return, particularly in the context of a market that is going up in value, is particularly difficult for investors to stomach. This is not dissimilar to the experience of value investors over the past few years.
South African perspective
From a South African point of view, the FTSE/JSE Value Index underperformed the FTSE/JSE All Share Index from its inception in 2004 to the end of the last bull market in 2007. This was followed by a period of significant outperformance during the financial crisis and up until the end of 2011. For the last three years or so, the Value Index has severely underperformed the market and this trend seems to have gathered pace in the last six months.
In their endeavours to ease the pain of underperformance in their portfolios, many investors today believe that buying quality businesses provides the solution and is the "safest" option. The demand now is for those businesses deemed to be high quality, with more stable earnings, reliably paying dividends - for which the market is prepared to pay seemingly any price. Quality businesses do generate brilliant investment returns when they're priced to do so, but simply don't when they're not. A good example of a time when they were "not" was the Nifty 50 bubble in the 1970s. The Nifty 50 was a group of companies so appealing that their stocks should always be bought and never sold, regardless of price. Among these were companies like Johnson & Johnson, Avon, Coca-Cola, Disney, McDonald's, Polaroid, and Xerox. Each was a leader in its field with a strong balance sheet, high profit rates, and double-digit growth rates. However, from their 1972–1973 highs to their 1974 lows, the Nifty Fifty fell spectacularly from grace with stocks like Xerox down 71%, Avon 86%, and Polaroid 91%.
We agree with James Montier of GMO who states: "The golden rule of investing: no asset is so good that you should invest irrespective of the price paid." We believe that these quality and 'safe' businesses are currently very expensive and therefore, may in fact present a risk of permanent capital loss in the long term if bought at current, high prices.
To make the point further – in the last 40 years, defensive companies in the European market have only been more expensive relative to the rest of the market 4% of the time. The market is overpaying for safety that comes from owning these so-called quality assets, and in doing so, exposing investors to very real investment risk. We have learned that when you pay too much for an asset, it is unlikely that you will get a good return.
In South Africa, the market is expensive in aggregate and a huge valuation discrepancy has appeared over the last three years. In 2007/2008, resources companies were incredibly expensive relative to the market, trading at twice the price-to-book valuation of industrial stocks (see graph). Since then, this relationship has reversed significantly and resources now trade at less than a third of the valuation of industrial companies.
This tells us that the market expects the current tough conditions in some of the resources companies to persist indefinitely. At the same time, the good conditions currently being experienced by industrial companies – mostly those that are listed on the JSE but operate primarily outside South Africa – are expected to continue going forward. Remember too that this includes a period where the rand depreciated by more than 40%, which also gave "ex-SA" companies a particularly strong tailwind.
To us, this indicates that investors are paying too much for three things – the safety of knowing that these companies operate outside of South Africa, the impressive but backward-looking run they have already enjoyed over the last three years, and the illusion of confidently predicting the good earnings will continue over the next couple of years. Remember however, for share prices to disappoint it is not necessary for companies to do badly. They only have to do "less well" than the market expects. Conversely, businesses that are priced at very low levels going through difficult times do not necessarily need to be doing well in absolute terms in order for their share prices to recover. They simply need to do better than or "not as poorly" as the market expects. Thus, the surprise for the former company, where expectations are exceedingly high, is far more likely to be on the downside whereas the opposite is true for the company that is hugely out of favour – the surprise, when everyone is eternally pessimistic, is far more likely to be on the upside.
Attractive opportunities
Uncertainty often brings the benefit of presenting very attractive opportunities for investors who are able to look past short-term volatility in market prices and instead focus on long-term investment prospects. This can be difficult from a professional perspective because portfolio managers who underperform the market risk losing assets and ultimately their jobs. As a result, many won't buy a contentious stock that they believe presents attractive prospects over a three-year horizon because of the uncertainty regarding how the stock will perform over the next three months.
We look to fill portfolios with as many diversified investments
as we can find - Jan van NiekerkThe current market environment, which has resulted in value investors falling by the wayside, in actual fact creates the kind of mispriced opportunities which lead to value investing trumping other investment styles over time. It is in this market environment, where mispriced assets become even more mispriced, that allows us, value investors, to construct portfolios with assets which are incredibly cheap within a market that is generally overvalued. This translates into a portfolio where the downside is limited but the upside potential is significant.
Putting together a robust portfolio means we accept that uncertainty is a constant and we don't know what will happen in the future. Our conviction is that the best way to protect portfolios against unforeseen negative events is to buy securities, preferably of high quality businesses, and only when they're very cheap compared to what they are worth. We look to fill portfolios with as many diversified investments as we can find, so that investment success is never dependent on any one of these ideas playing out perfectly. Ultimately, this puts the odds of investment success on our side, despite the uncertainty of the future – and is the secret to success when it comes to value investing over time.