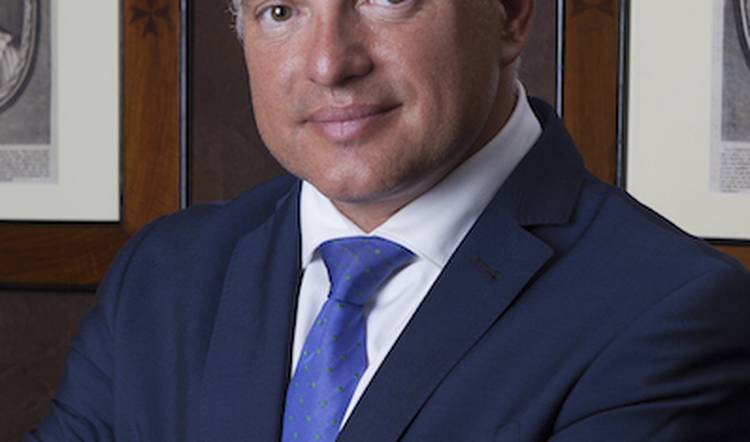 Analysis > Analysis and Strategy
The Importance of Value Creation
Word count: 1184
For the last eight years, Mediterrania Capital Partners has focused on Capital Growth markets in North Africa and Sub-Saharan Africa, characterized by consumption-driven economies, pro-business policies, rapid urbanization, favorable demographics, and growing consumer classes. 
Receive ONE magazine and TWO locked articles of your choice for FREE when you register an account
For the last eight years, Mediterrania Capital Partners has focused on Capital Growth markets in North Africa and Sub-Saharan Africa, characterized by consumption-driven economies, pro-business policies, rapid urbanization, favorable demographics, and growing consumer classes. 
Countries including Morocco, Tunisia, Algeria, Ivory Coast, Egypt, Cameroon and Senegal are experiencing a phenomenal rise in their middle class and rapidly growing numbers of women entering the labor market, with the consequent greater purchasing power of both market segments. The population is turning to fast-moving consumer goods (including retail clothing, especially among young generations), education and healthcare, all sectors becoming key elements of the economic and social development of Africa. 
At the same time, as well as stylish clothes, new schools, well-equipped hospitals and low-cost medicines, African countries have a great need for modern logistics platforms and infrastructures, more sophisticated industrial products, international food products, adequate financial services, etc. 
Consequently, riding the wave of this demographic and economic expansion, many small and medium enterprises in the most advanced African countries are booming – in fact, we continuously have a strong pipeline of good companies operating in fundamentally strong sectors in markets where competition is relatively low and the future trends are positive. However, in many cases these companies lack not only appropriate financing but also the structures, processes and systems needed to enable them to capture the full growth of their markets. 
And contrary to what one might expect, while the SME pace is accelerating, the banking system in many African countries is still developing and, in many cases, local financial institutions are not able to offer what companies need in order to grow their business. So, until local banks can adjust their policies to keep pace with SMEs development, private equity firms will remain a crucial source of financing in Africa.  
Unique value creation process
Since the start of our operations, Mediterrania Capital Partners has been assisting African companies in need of financial, management and strategy support, helping them expand and reach their next stage of growth level. And we have done so by creating strong partnerships with local entrepreneurs, working hand-in-hand in order to achieve their business goals in the short-, medium- and long term - helping them build companies to last. 
Thanks to our Value Creation Model, our portfolio companies are growing far beyond the markets where they are playing and are setting the right foundation that will allow them to keep performing in the future years. 
As of today, Mediterrania Capital Partners has invested in a total of 17 companies based in Morocco, Algeria and Tunisia. Our network of offices in Abidjan, Algiers, Barcelona, Casablanca, Tunis and Valletta provides an on-the-ground approach and unrivalled access to African and European markets. 
Thanks to our strong know-how in a wide range of markets and hands-on operating capabilities, we are able to generate high returns and actively drive value creation. In summary, we help portfolio companies expand their product offering and reach new customer segments and geographies while also professionalizing their internal processes and improving their structures. 
Another important aspect of Value Creation lies in improving the Environmental, Social, and Governance (ESG) aspects of a business, as these can have a strong impact on long-term company performance. Mediterrania Capital Partners investments have always considered ESG factors as a key part of our investment process and today we continue to enhance our global responsible policies, including those relating to job creation, female employment rates, environmental protection, as well as the mechanisms and relationships through which companies are controlled and directed, also called corporate governance. 
Six steps of value creation
Being able to select the right companies in which to invest is crucial, but even more important is the ability to create value from the very first day: to make portfolio companies better at all levels, stronger when coping with constant economic and political challenges, more competitive in the market, more international, more efficient today while ensuring they will continue to deliver good results in the future.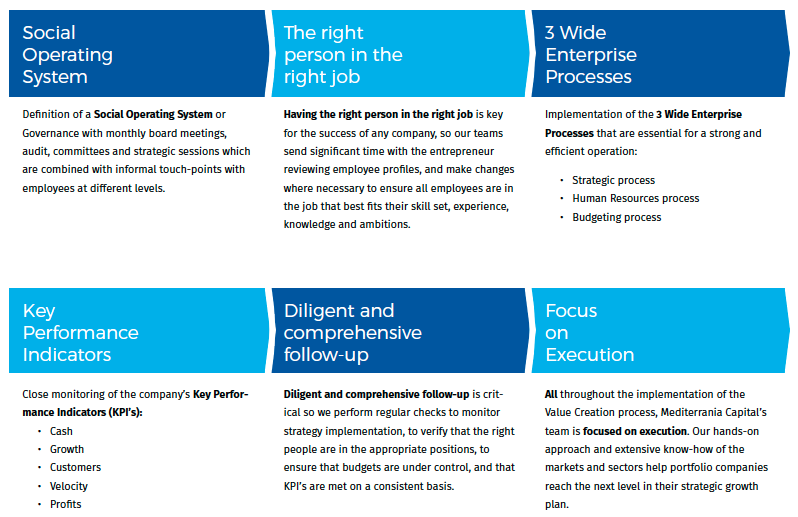 Portfolio company update: Cash Plus 
Country: Morocco 
Sector: Financial Services 
Business focus: Money Transfer Company specializing in domestic and international cash transfers 
Key figures 2015: €10m in revenues; 1.7 million transactions 
Investment date: July 2014 
"The entry of the fund Mediterrania Capital II has been of great help to Cash Plus. The new senior management in place is perfectly aligned with the interests of the company's shareholders. Cash Plus is entering a new area that will take the company into the next stage of development in Morocco and the rest of Africa," -  Nabil Amar, Cash Plus Shareholder 
The Company 
Founded in 2004 and headquartered in Casablanca, Cash Plus is a family-owned business specializing in domestic and international cash transfers. The company also offers currency exchange services, payment of online purchases, permit changes, and payment of vehicle registration tax. 
Supported by Mediterrania Capital Partners, in October 2015 Cash Plus completed the acquisition of Eurosol, the fourth largest player in the market, and so became the second largest money transfer company in Morocco and the largest independent one. 
Nowadays the company enjoys a strong competitive advantage in a rapidly growing market thanks to: 
Its strong partnerships with international money transfer companies such as Western Union, MoneyGram, MoneyTrans, Money Exchange, etc. 
The strength of its brand, which has helped develop a solid and profitable franchisee model for national transfers. 
 With an extensive network of approximately 1,000 sales outlets covering the entire territory of Morocco, Cash Plus helps to enhance financial inclusion by enabling its million unique clients to have access to financial products without needing to open a bank account or own a credit card. 
Mediterrania Capital Partners' Value Creation model implementation and results  
Following Mediterrania Capital Partners' investment in Cash Plus, a major HR reorganization took place with the objective of improving the company's commercial efficiency. A new CEO was hired and the entire organization was restructured. 
The company also needed to increase its brand awareness and product sales and so a new marketing manager was recruited. In recent months Cash Plus' visual identity has been redesigned to grow brand recognition and attract new customers. 
In addition, a new IT system has been developed and fully installed in all points of sale. Lastly, following a Mediterrania Capital analysis of the sales outlets' performance, Cash Plus closed some of its underperforming outlets. This decision has enabled the company to strengthen its presence across Morocco and improve its financial results. 
In two years since 2013, Cash Plus had doubled its revenues and multiplied its EBITDA by a factor of five. The number of processed transactions had risen 20% year-on-year to reach 1.7 million to the end of 2015. 
Cash Plus' future strategy seeks to leverage on the Eurosol acquisition by launching innovative financial products throughout its large network and expanding its presence across Africa while continuing to improve its commercial efficiency and increase its market share.