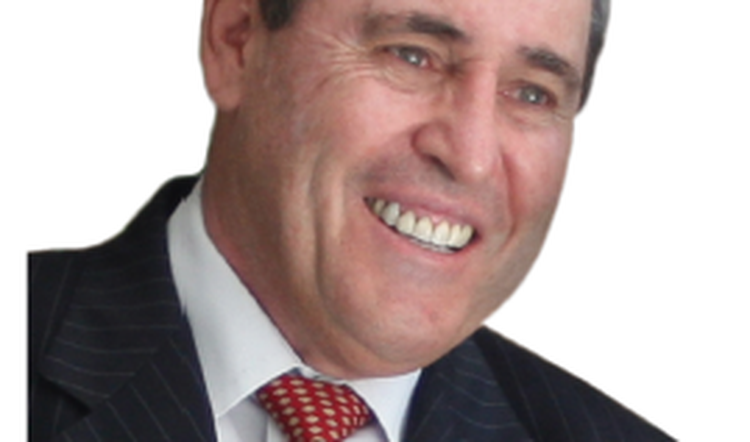 Analysis > Analysis and Strategy
SA Passive Investment Products
Word count: 823
Investment in South African passive investment products grows by R100bn over past two years to R247bn, writes Mike Brown, Managing Director, etfSA.co.za
Receive ONE magazine and TWO locked articles of your choice for FREE when you register an account
Investment in South African passive investment products grows by R100bn over past two years to R247bn, writes Mike Brown, Managing Director, etfSA.co.za
The relatively small size of the passive index tracking investment business in South Africa, relative to the well-established active investment management industry in the country, is often subject to comment. However, there has been some measurable swing to passive investment products in recent years. Back in 2010, passive investment products were found to account for less than 1% of the assets under management in the retail unit trust industry.
However, as at mid-2015, the combined assets under management by South African index tracking ETFs and passive unit trusts had risen to R143bn, which is an estimated 11% of the total R1.3trn under management by active investment unit trust products. If you add the holdings of South African assets by international investors, through ETFs listed on global stock markets (outside of South Africa) which accounts for an estimated R97.4bn, the total passive assets under management (AUM) rise to R247bn, or some 20% of the AUM of the actively managed unit trust products available to retail investors in South Africa.
Investors in foreign based South African ETFs
There are currently five dedicated Exchange Traded funds (ETFs) listed on stock markets in the USA (1) and in Europe (4) that track, either the MSCI Top 50, or the FTSE/JSE Top 40 indices of South African equities. As at end August 2015, the total assets under management (AUM) in these ETFs was $428m (R5.78trn).
In addition, there is significant foreign investment in emerging market ETFs, which invest in broad emerging market indices. The MSCI (Morgan Stanley Composite Indices) emerging market index, for instance, covers 23 emerging markets in Asia, Europe, Africa and South America. South Africa currently makes up 8% of the index weighting of this MSCI Emerging Market index. Currently, over 20 ETFs in Europe offer exposure to broad emerging market indices and 60 USA funds track these indices. Total AUM is $90.2bn. The 8% share of South Africa in the weighting of emerging market indices accounts for $7.2bn (R97.4bn).
South African Index Trackers
There are 70 ETPs listed on the JSE (ETFs and ETNs), which as at 30 June 2015, had a market capitalisation of R128bn. In addition, 28 index tracking unit trusts are currently available to retail investors in the local market, accounting for AUM of R15.4bn.
The South African passive industry in mid-2015, therefore, accounted for a value of R143.4bn AUM, well up on the R54.4m AUM as at the beginning of 2013. The passive investment product industry is one of the fastest growing investment sectors in the South African market.
Total passive assets under management
The corresponding table summarises the total assets held in passive products, both in South Africa and, through exchange listed products in South African assets offshore.
The offshore holdings, either directly or indirectly, in South African equities has fallen from $10.4bn in early 2013 to $7.6bn at present. This largely reflects the declining attraction for the global investor of emerging market equity investments, but this is likely to be cyclical and should recover in time. Of course the depreciation of the rand (from ZAR9 to the US dollar) between early-2013 and mid-2015 (ZAR13.5 to the US dollar), has absorbed this decline in rand terms.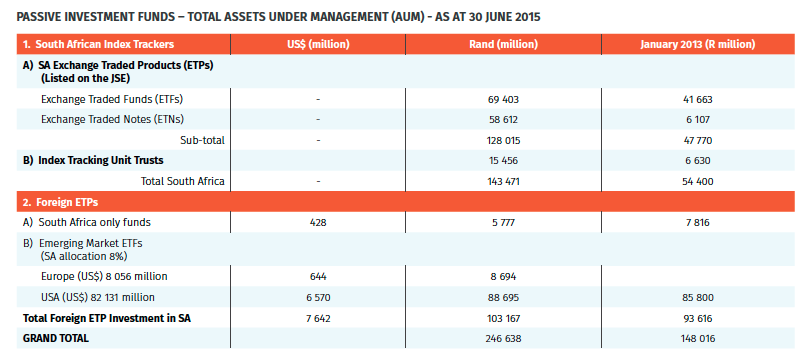 Since 2006, the local ETP industry has grown from nine products, with R12bn under management to the present total of 70 products with R128bn AUM. Of particular interest is the sharp increase in the number of Exchange Traded Notes (ETNs) and the assets under management in ETNs in the past few years. ETNs are popular with certain institutional and segregated portfolio holders because of their low cost, near zero tracking error and high liquidity when dealing through market makers.
In addition, there has been a steady increase in the number of passively managed unit trusts in South Africa. In late 2012, there were 15 passive unit trusts with AUM of R6.63bn. As at 30 June 2015, this total had risen to 28 passive unit trusts with AUM of R15.46bn. Ten different asset managers are offering index tracking unit trusts to the South African retail investor.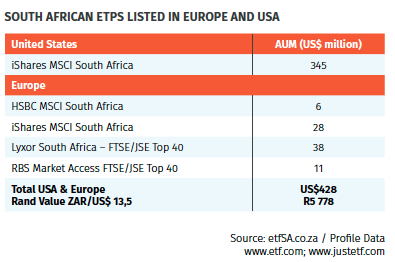 Foreign products tracking South African assets
There are currently five ETFs listed on foreign exchanges that track either the MSCI or S&P South African equity market indices. These Funds have $428m (R5.78bn) AUM. This is down from $864m in January 2013, reflecting the current slump in emerging markets.
Broad Emerging Market ETPs
Many global investors look to gain exposure in developing nation equity markets, through country-fund type ETFs, or else using the broader aggregate emerging market ETFs. South Africa contributes a weighting of 8% (behind China, Korea, Taiwan) in the broad emerging market MSCI index and so forms an important component of such global exposure to South African shares. There are some 80 emerging market ETFs, listed in Europe and the USA stock markets and these funds, with their AUM, are detailed on the etfSA.co.za website.