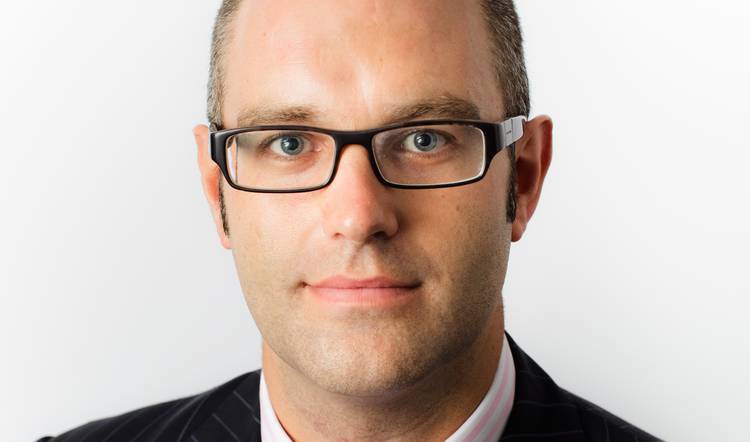 Analysis > Analysis and Strategy
Are fund managers ready for reinvention?
Word count: 1197
The opportunity for growth-ready fund managers and asset managers is huge. Are you ready to capture it?
Receive ONE magazine and TWO locked articles of your choice for FREE when you register an account
The opportunity for growth-ready fund managers and asset managers is huge. Are you ready to capture it?
New research from FIS and Longitude Research, captured in the report The Hunt for Growth, highlights a need for new ways of thinking – including a focus on consolidating technological systems and a commitment to investing in innovation – across the front, middle and back office. 
WHY IT'S TIME FOR REINVENTION
In one of the most glaring findings from the research, it seems many are clear about the growth goals they want to hit, but not confident in their existing technological and operational environments to get them there. Improving operational efficiency in the middle and back office will be key to success.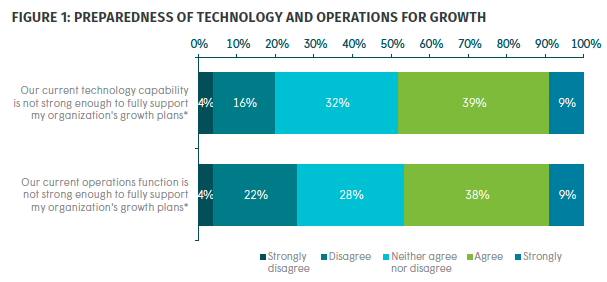 What does this all mean for fund managers? 
It's telling – although not entirely surprising – that asset managers are confident about growth targets but acknowledge their technology and operations aren't strong enough for the job. We have seen plenty of examples where spreadsheets and manual processes are still cemented strongly into operational environments across a wide variety of asset management firms. And spreadsheets can have steep hidden costs, including extra employees to manage them and time required to update or fix them. Of course, a firm employing this strategy would typically have a few people in charge of managing spreadsheets, which creates added key person risk. If asset managers seek to branch out and grow their business with a spreadsheet-driven operational environment, their manual challenges and the associated costs can multiply. 
A "technological sticky-tape" approach simply cannot support the kind of innovative investment strategies and multi-asset class approaches that firms are exploring to reinvent for the future. 
The bottom line is, if asset managers are not actively pursuing technological reinvention today, how can they expect to rise to the future?  
REINVENTION REQUIRES GROWTH READINESS
What makes someone a Readiness Leader? To determine the answer, we used the FIS™ Readiness Index, which rates buy-side firms' performance on each of six key growth enablers (see Figure 2). The result is clear: those closest to achieving operational excellence are reaping the rewards and growing more rapidly than their rivals.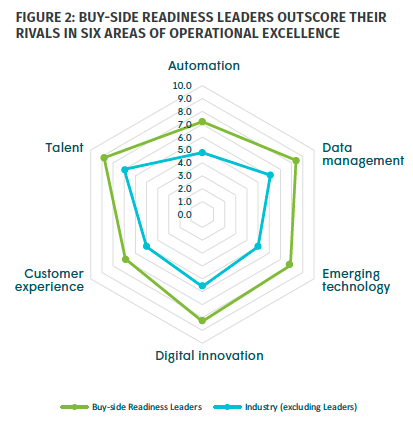 For an industry that's ready for reinvention, it's hard to imagine a strong growth trajectory without strengthening and optimizing these areas of operational excellence first. With the industry's reinvention hinging on smart technology consolidation and growth-focused innovation, we will explore three of the focus areas within The Hunt for Growth research.
FOCUS AREA: AUTOMATION
As we found in our research, a reduction in operating costs is the biggest driver of IT spending for asset managers in general, with 36 percent ranking this among the top three benefits their technology spend must deliver. Greater automation coupled with technology consolidation will be crucial here. Driving further simplification and automation in areas such as the trading book, compliance, client reporting and collateral management will bring down costs, improve the speed of processing and enable managers to access more real-time pricing and valuation information.
More and more, we're seeing firms hit a tipping point with no choice but to upgrade to more highly automated technology or hire more operational people to slog through manual tasks. And inevitably, more hires and time-intensive manual processes come with more cost pressure. 
In a hyper-competitive industry where investors and regulators are continually changing and bringing new demands and talent acquisition is harder than ever, which is the sounder investment?
FOCUS AREA: EMERGING TECHNOLOGY
If strengthening automation is the foundation, investing in emerging technology is the next level. As we saw in our research, only about one in 10 asset managers have achieved full automation with robotics today. Areas like robotics, machine learning and artificial intelligence all have a place in the connected future of fund management, from assessing market movements through algorithms through to supporting the back office to more efficiently generate a daily net asset value (NAV). 
Robotics isn't an industry buzzword to brush off – it's an area where already we are seeing some visionary firms rising above their peers by incorporating emerging technologies to complete complex tasks. It's hard not to see the gap where Readiness Leaders scored a 7.9/10 and the rest of the pack sits at 5.0/10. Among the Readiness Leaders, the main applications of emerging technologies being explored are:
Performance analytics (51 percent)
Automation of operations (48 percent)
Risk management (41 percent)
With machine learning robotics technology in place, the system can essentially "learn" a firm's processes and be used to generate higher levels of automation, reduce risk, and support smarter performance. Make no mistake: robotics and other emerging technologies will help revolutionize an industry in need of reinvention. 
The firms that are fastest to harness emerging technologies are likely to be the firms that will emerge as winners in tomorrow's hyper-competitive landscape.
FOCUS AREA: DIGITAL INNOVATION
While all six areas of Readiness leadership are interconnected, the area of digital strategy and innovation may be the one that truly ties everything together. Working hand-in-hand with the point of enhancing the customer experience, embracing digital innovation is a critical area for asset managers to improve if they want to achieve the future growth they seek. 
This point speaks to the rise of technology in general – the idea of walking around with the world's information and entertainment in our pockets is no longer new. Asset managers and fund managers must acknowledge that investors now expect apps that feel intuitive, websites that make things simple, and a digital user experience that is smooth and seamless. 
The key will be in overcoming barriers to digital innovation that could prevent asset managers from rising to a digitally-connected future. 

We believe the firms that will rise to the future aren't balking at the discomfort of reinvention and innovation; rather, they are taking this challenge head-on, perhaps knowing some of their rivals may not choose to be as bold. This may be a make-or-break for attracting and delivering for tomorrow's investors – who will be make-or-break for the long-term growth of a fund.
IS THE BUY SIDE READY FOR REINVENTION?
No one said reinvention or rising to the future would be easy. 
Are asset managers ready for reinvention? The outlook is good, but there is still plenty of work to do. It is clear what the industry needs to do to connect the dots between "ready" and "rise" – now it's a matter of kicking things into high gear. FIS is keeping our sights set on the future, and we're helping our clients solve their technology challenges today to help them withstand unexpected challenges and reinvent for tomorrow.
The fund managers and asset managers that take the necessary steps toward growth across our areas of growth readiness will be best-positioned to rise and win in the future. 
Learn more about the FIS Readiness Index and download your copy of The Hunt for Growth at https://www.fisglobal.com/fisreadinessreport