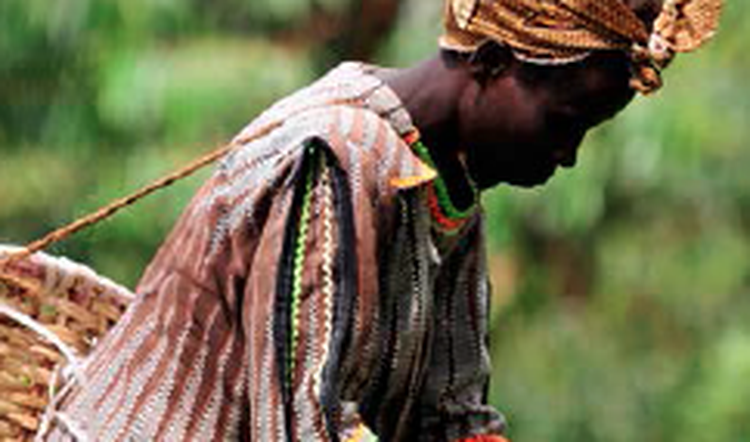 Analysis > Analysis and Strategy
Agricultural Investment Funds
Word count: 2959
Agricultural investment funds have underscored public and private sectors' interest to help address the resource constraints for achieving food security. Concerns over food security are not limited to Africa, and this is now a global worry. The World Bank anticipates that urban food markets will increase fourfold by 2030, to exceed $500bn, so food production needs to more than double to meet this growing demand.
Receive ONE magazine and TWO locked articles of your choice for FREE when you register an account
Agricultural investment funds have underscored public and private sectors' interest to help address the resource constraints for achieving food security. Concerns over food security are not limited to Africa, and this is now a global worry. The World Bank anticipates that urban food markets will increase fourfold by 2030, to exceed $500bn, so food production needs to more than double to meet this growing demand.
Africa can be an important part of the global solution, says Stuart Bradley, Joint Managing Partner, Phatisa, adding that there is increasing investor interest in sub-Saharan Africa along the whole food supply chain.
"Challenges remain in terms of infrastructure and trade, but there is increased commitment from governments and other partners to a sector offering strong growth opportunities. In spite of well-known risks, the continent offers both huge agricultural potential and fast-growing markets," he adds.
The growing attractiveness of agricultural investment projects as profitable business ventures has played a role in the emergence and growth of agriculture-focused funds. "Private equity investment in agriculture and food related businesses can ensure and drive efficient and sustainable agricultural production, helping to boost food security, economic growth and poverty reduction in sub-Saharan Africa. And development equity in particular can play a meaningful role in this regard," says Bradley.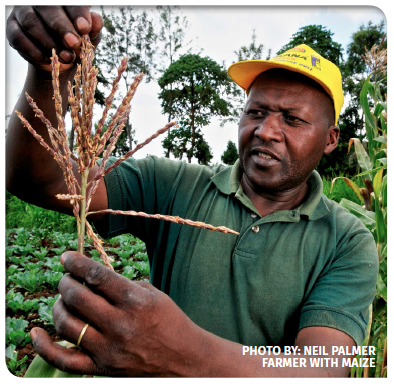 This is where Phatisa finds its niche. The private equity firm manages the African Agriculture Fund (AAF), which targets three subsectors of food and agriculture: primary, secondary and tertiary (services and infrastructure). The Fund reached final close at $246m in November 2010, operations commenced in January 2011 and within six months the team, set the investment pace by concluding the AAF's first investment in Sierra Leone, West Africa. The Fund has made 8 investments (excluding follow-on deals) across 15 countries to date.
Phatisa considers investments across the sub-Saharan region. Access to a large (preferably domestic) catchment population, potential to build platform assets, the right arable conditions (farming assets) and supportive regulatory environment are some of the considerations for making investment decisions on a geographical landscape, explains Bradley: "Today we have investments covering a wide geographical base, ranging from Zambia, Sierra Leone, DRC and Cameroon."
"We have made investments in palm oil (oils and fats) and soya (in conjunction with poultry and meat production) where we see huge opportunities to supply basic food to an ever-increasing population and growing affluent middle class," he says.
Development equity is at the heart of Phatisa's investment philosophy. Development Equity (DevEq) equals PAT (profit after tax) times a given exit multiple (x) plus impact (i) squared. Bradley says that the AAF behaves similarly to traditional PE funds, by optimizing operational efficiencies and maximizing value on exit. He adds: "However we focus on specialist sectors we know and understand so we are able to stimulate development in food in Africa."
Geographical focus and opportunities
Africa Global Funds has identified a number of Africa agriculture-focused funds. Regarding the geographic distribution, the majority of the identified vehicles are focused on sub-Saharan Africa or Pan Africa, whereas a number of funds invest in one country or a sub-region.
For example, Futuregrowth Asset Management is dedicated to the development and empowerment of South Africa and its people. Futuregrowth is on its third agriculture fund for South Africa. The first (R462m) and second (R1bn) funds are closed for further investments. The fund manager is currently capital raising for its third agriculture South African fund and has raised approximately R250m from local pension funds.
The Futuregrowth Agri-Fund is part of the Futuregrowth's suite of development impact funds, which offers an opportunity to invest in agricultural land, biological assets, agricultural infrastructure and other related farming implements in South Africa.
Smital Rambhai, Product Manager: Community Property & Agricultural Funds, Futuregrowth Asset Management, says: "We are the land owners and our returns would come from lease fee income (typically starting from 8% of the farms' value). The investments are in the actual farmland and infrastructure, which is leased to an approved operator to manage and run the farm. We look for farms that are not fully developed and that have expansion potential, so we could enhance the value of those farms."
The Agri funds are managed in partnership with UFF Agri Asset Management, a specialist advisor in agriculture investments in Africa. The choice of assets is guided by a multitude of factors such timing of produce to market, ability to enhance production yields, expansion potential, access to water rights and the ability to create social impact.
The Futegrowth Agri-Fund I invested in four farms in South Africa: Marble Hall, Northern Cape Grape Farms, Piketberg and Eshowe. For instance, the Northern Cape Grape Farms investment is a consolidation of three farms in the table grape region of the Northern Cape covering a total area of 3 183 ha, 2 961 ha of which are natural veld. Rambhai says that it's one of the few farms globally that supply table grapes to offshore European markets just before the Christmas period starts. The farm, which was acquired in 2011 for R45.3m, is operated by Safe Farm Ventures.
The Fund aims to provide investors with a developmental vehicle that facilitates agricultural development, farming infrastructure, social, environmental and economic development in southern Africa.
Investing in farmland and infrastructure contributes to food security and job creation - Smital RambhaiRambhai points out that the social development is very important: "We have a lot of development programs. For Futuregrowth, sustainable and responsible investing in agriculture requires an integrated approach to social and environmental considerations in all their decisions. Investing in farmland and infrastructure contributes to food security and job creation."
"We integrate programs to uplift farmworkers wellbeing, and are setting new standards in the industry. We provide all the permanent farm workers with medical insurance, we also have basic adult education in place, identify farmworkers for management training programs in conjunction with the operator leasing the farm and also upgrade existing farmworker housing that complies with international standards," he says.
From land and infrastructure perspective, South Africa is quite attractive from an investors' perspective, says Rambhai. "If you look at global yields of leasing of land for farming businesses, in South Africa you can get between 8.5-10.5%, whereas in the US, the UK or the Netherlands it's only 1.5-3%. In addition, the cost of production and the volumes generated in South Africa should be better than the more developed countries."
Nevertheless, Rambhai says that investment appetite for agriculture in South Africa is becoming difficult due to a land expropriation reform bill which is still being debated and not signed into law. It keeps changing and makes investors nervous. Recently, the main house of parliament passed a bill that will enable the state to pay for land at a value determined by a government adjudicator and then expropriate it for the "public interest". The South African government has previously worked on the principle of "willing buyer, willing seller". The shift now is for compensation that is "just and equitable" and is a balance between public interest and the interest of the expropriated owner. The expropriation reform bill has surfaced before and in its current state would still be deemed as unconstitutional.
Another experienced fund manager in agriculture is Agri-Vie, which is is currently fundraising for its second fund and will shortly be announcing the first close. Agri-Vie Fund I has successfully completed its deployment programme by investing $100m into a portfolio of growing East and Southern African food and agribusiness companies. The Fund has a portfolio of 12 investments in 7 African countries.
"We have investments in Ethiopia, Uganda, Tanzania, Kenya, Mozambique and South Africa. We also have a small indirect investment in Rwanda. The average ticket size for the Fund I was $6m," says Avril Stassen, Senior Partner at Agri-Vie.
The Fund covers 11 agribusiness sub-sectors. For example, Fund I has invested in floriculture company, the Kariki Group, based in Kenya. Another portfolio company is africaJuice, a vertically integrated grower and processor of tropical fruit juice based in Ethiopia. Stassen says that most of their businesses are vertically integrated: "They are typically anchored in the value added part of the value chain, but have elements of up and downstream activities."
Stassen says that Agri-Vie doesn't focus on stand-alone primary agriculture based on their "own appetite and opportunity set". "I think for the primary agriculture you need a lot more capital and you probably need to do it outside of the private equity fund structure. I think large primary agriculture projects are better suited for the longer term vehicles. We also find the returns in the vertically integrated model much more compelling than in primary agriculture. No doubt you can make substantial returns in primary agriculture on more selective basis."
Investment risks and risk mitigation
In Africa, many developing countries face serious constraints that leave their agriculture sectors idle and underdeveloped. Combined with external risks such as natural disasters, these constraints have discouraged many financiers from investing in agriculture.
For Lydia Shadrach-Razzino, Director, ENSafrica, the main risk when investing in agriculture is cyclicality and volatility of the sector, especially when one is relying on the weather. "I think that PE Funds that are able to be more flexible on timing of exits, will be successful in this sector. The current drought across SA and some of Africa does not assist with garnering interest in the agricultural sector," she says.
For Stassen, the challenge in Africa is lack of well-developed supply chains. "You can't rely on external supply chain alone. The unsophisticated markets and different ways of doing business would be another challenge. Finally, it's not always easy to find breadth and depth of management and technical talent to run our investee companies," he says.
"In mitigation of those risks, where we do make an investment, we make sure that we have very strong operating partners investing alongside with us in the business. We certainly make sure that we have enough capital allocated into developing supply chain, before putting in place production capacity. Very importantly, we have recruitment programs in place, so we make sure that people are developing skills on an ongoing basis in all of the businesses," he adds.
Rambhai adds that Futuregrowth is mitigating their risks by ensuring that the farms have proper monitoring processes, insurance and water is used efficiently. "We are not dependent on rainfall as we only acquire farms that have water rights attached. A thorough due diligence of Operators (Agri businesses) who lease the farms from the Fund is conducted to ensure that lease fee obligations are met."
"Operators need to have a strong balance sheet and demonstrate that they have income from other farming operations in different regions in order to ensure that the risk is diversified. UFF Agri Asset Management conducts a through due-diligence process which goes as far as analyzing soil quality, weather patterns, age of the biological assets and water availability . Key to managing environmental risks and worker welfare is the requirement that all the Fund's farm operations meet the World Bank's International Finance Corporation (IFC) standards and all farms are GLOBAL GAP certified," he adds.
Phatisa recognises the sensitivity around land acquisition and as such has developed a 'best in class' policy to cater for investments that involve land ownership. "We do not 'land bank' and place zero value on land when we enter an investment and model our exit. Where we make an investment in primary agriculture it is in order to use Africa's land to produce food for its people and therefore reducing Africa's food insecurity and import dependence," says Bradley.
He notes that the African Agriculture Fund has, for the first time in agri business private equity, created a Code of Conduct for Land Acquisition and Land Use for agricultural and agri business projects and investments.
For Bradley, the two major obstacles facing African agri businesses are difficulties in accessing finance, and a lack of local skills. The inadequate teaching facilities and research capacities of African higher education and research facilities are negative factors affecting agriculture, industry and manufacturing in many countries.
"Education and skills development is therefore an important feature of the AAF investment philosophy. As a focused fund, we are able to support our investment companies with specialized in-house skills, such as: tropical agriculture experts; routes to market professionals; hands-on financial management; marketing and branding; corporate governance and ESG; and soil management, to mention but a few. The effective transfer of knowledge, besides offering a key solution to many common business challenges, also enables the development of local know-how, which in turn supports sustainable long term growth," he explains.
Finding and retaining experienced and sophisticated management at various skill levels is always a challenge -Stuart Bradley"Finding and retaining experienced and sophisticated management at various skill levels is always a challenge. As fund manager, we are able to draw on our years of experience and our Africa network to assist in the selection and recruitment of the best candidate for the position," he adds.
None of the interviewed funds have made any divestments to date. However, Stassen points that the firm is actively looking at a couple of exits for the Fund I. "We have one or two of our investee companies that have embarked on a disposal process. Our view is that most of our exits are more likely to be a combination of strategic buyers as well as financial buyers."
"There is a lot more private equity capital has been raised for Africa, over the last year in particular. The available financial buyers' capital basis has grown significantly. Food and agri is on the radar, so from a financial buyer perspective, there is quite a lot of interest already. Strategic buyers are all positioning themselves for the growth opportunity in sub-Sahara Africa. We see a lot them already active in the space and a lot of them have acquisition strategy," he says.
Bradley adds that the AAF's portfolio is on average three years old and still early in the lifecycle to exit. "That said a number of our portfolio companies have attracted the attention of buyers."
Rambhai emphasizes the importance of being in the fund for a longer term. The holding period for the South African strategy is 10 years plus an option to extend up to 2 years in order to achieve the maximum sale price in the market for the investors. He adds that South African investors don't want to be locked in the investment for more than 10 years. "In this investment period we try to optimize the farm and expand it. It takes 3 years until the new plantings comes into production, and between 7 and 8 years until it's in a full production state."
"If you have to exit your investment earlier than 7 years, you will have deployed all your capital and not benefitted from the upside that occurs when the farm is in full production and a higher valuation is applied to the biological assets when they are in full production state," he says.
PE funds' role in agriculture investing
Although agriculture represents around 25% of GDP in sub-Saharan Africa, the share of commercial bank lending to the agriculture sector remains very low: 3% in Sierra Leone, 4% in Ghana and Kenya, 6% in Uganda, 8% in Mozambique and 12% in Tanzania. Bradley says that agriculture and food related companies can safely take on only a limited amount of debt, and this constrains their ability to grow. "The AAF therefore provides an invaluable funding gap to these businesses – it can accommodate and facilitate their expansion, which would not otherwise be possible through the traditional lending channels," he says.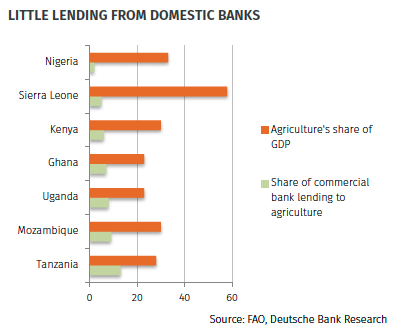 Stassen agrees, that private equity has a strong role in food and agribusiness investing. He says that typically, the commercial banks have up until now being very inactive in providing debt capital to food and agribusiness in sub-Saharan Africa outside of South Africa. In terms of competition for sources of capital, there is not a lot of debt capital available. Essentially DFIs money and private equity money are the available sources of capital.
"We have no doubt that in time commercial banks will awaken to the opportunity and start deploying capital. But currently private equity has a very important role as one of the very few sources of capital. In addition, PE funds can play an important role in those businesses in terms of helping grow and develop them into large and successful businesses," he says.
Shadrach-Razzino adds: "My view that the role that PE funds can play is one of partner focused on growth in the sector i.e. identifying underlying related business for expansion and increased returns as well as bringing a more sophisticated focus on creating the correct management and admin structures so that the businesses function more efficiently." 
As to the outlook, industry experts remain optimistic. "There is definitely a growing interest in this sector and I think that we will see many more agri investments in latter part of 2016 and 2017 and most especially by agri-focused PE funds. The generalist funds may still be more conservative on these investments and I expect that the agri-focused funds will be more aggressive."
"We continue to be very optimistic about the outlook," adds Stassen. "SSA is still featured at the higher end of the economic growth projections. The growth in the food and agri space is substantially higher than headline economic growth. It's a continuing growth story, and we haven't seen any dramatic slowdown in food and agri spending in our core focus countries. External shocks remain a concern, but for us it's mostly a local growth story."
"Africa does have its own set of unique challenges and one needs to have a deep knowledge and experience when investing in the continent. However, right now the macro fundamentals when compared with other regions of the world are really stacked in Africa's favour – a young and growing population that is rapidly urbanising and increasing the consumer sector," concludes Bradley.