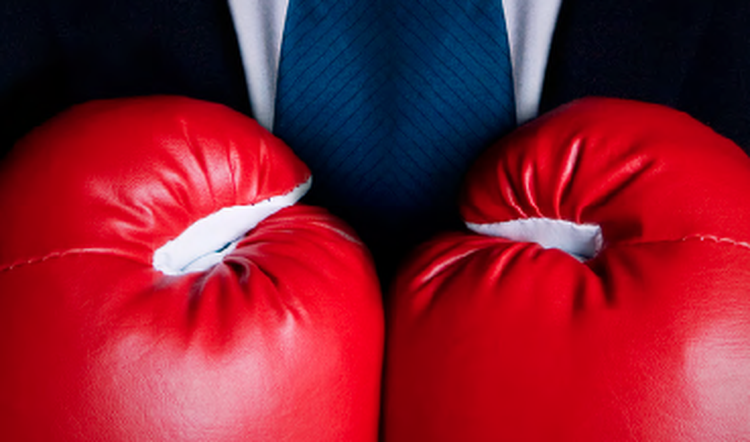 Analysis > Analysis and Strategy
AGF Top 40: Institutional Titans
Word count: 5834
Over the past few months we've been busy collecting your votes on who should make our inaugural Africa Global Funds' list of Top 40 institutional investors in Africa. With your help we have chosen institutions among banks, insurance companies and development finance institutions, as well as SWFs, endowments and foundations. While these investors differ widely in the strategies and philosophies, they have one thing in common – they commit substantial funds to Africa's development, promoting job creation and supporting economic growth throughout the continent. The AGF Top 40 Institutional Titans is our recognition of these visionary investors who are shaping up the future of Africa.
Receive ONE magazine and TWO locked articles of your choice for FREE when you register an account
Over the past few months we've been busy collecting your votes on who should make our inaugural Africa Global Funds' list of Top 40 institutional investors in Africa. With your help we have chosen institutions among banks, insurance companies and development finance institutions, as well as SWFs, endowments and foundations. While these investors differ widely in the strategies and philosophies, they have one thing in common – they commit substantial funds to Africa's development, promoting job creation and supporting economic growth throughout the continent. The AGF Top 40 Institutional Titans is our recognition of these visionary investors who are shaping up the future of Africa.
Abu Dhabi Investment Authority [SWFs]
Jean-Paul Villain, Senior Investment Advisor and Head of Strategy
Villain oversees the strategy in the Abu Dhabi Investment Authority (ADIA), one of the largest pools of capital in the world. He has been governing the fund's investments since the mid-1990s. Established in 1976, ADIA is the second largest sovereign wealth fund in the world with $773bn of estimated assets. The SWF invests funds on behalf of the Government of Abu Dhabi through a strategy focused on long-term value creation. ADIA previously allocated funds to Egypt, Morocco and South Africa.
African Development Bank Group [DFIs]
Donald Kaberuka, President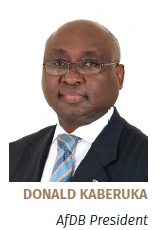 Kaberuka is at the verge of ending serving his second five-year term as President of the African Development Bank Group. He was first elected in 2005, becoming the seventh president of the Bank Group since its establishment in 1963. During his service at the AfDB, Kaberuka has presided over a major redirection in its strategy for development and poverty reduction in Africa. During Kaberuka's period of office, the AfDB has become Africa's premier financial institution. In 2013, the Bank developed a ten-year Strategy that focuses on two objectives to improve the quality of Africa's growth: inclusive growth, and the transition to green growth. The AfDB has placed increased emphasis on the private sector, and on the importance of major infrastructure developments in areas such as road, railways, power plants and communications, especially in their role in promoting regional integration in Africa. The Board of Governors will be electing Dr. Kaberuka's successor on May 28, 2015 during the annual meeting, scheduled to take place in Abidjan, Côte d'Ivoire. "We have a responsibility to fund our own development. That requires good policies; it requires capacity."
ARM Pension Managers [Pensions]
Sadiq Mohammed, Managing Director
Mohammed manages ARM Pension Managers, one of the first seven Pension Fund Administrators (PFA) granted license by the National Pension Commission in December 2005. It is part of the Asset & Resource Management Company Group, one of Nigeria's most prominent and respected financial service brands. "Our focus will be to invest in assets we consider undervalued in both the equity and fixed income market. We will also take advantage of volatility in the fixed income market to build portfolio duration as necessary."
Africa Finance Corporation [DFIs]
Oliver Andrews, Chief Investment Officer
Andrews is Executive Director and CIO at Africa Finance Corporation (AFC), where he leads the deal origination, execution and management of the investment portfolio. He previously led the Corporation's the origination and coverage division, which executed over $1bn of high-impact developmental projects across Africa, financing high developmental impact projects such as: a West African fiber optic submarine cable, a wind farm in Cape Verde, a toll road in South Africa, a toll bridge in Ivory Coast, and development capital raising for a natural resources company in Nigeria. Additionally, initiated and led the internal development and execution of the AFC/FMO Project Development Facility to increase the pipeline of bankable infrastructure projects across Africa, into the Corporations project pipeline.
Africa Reinsurance Corporation [Insurance]
Corneille Karekezi, Group Managing Director and CEO
Karekezi serves as CEO and MD of African Reinsurance Corporation. Domiciled in Lagos, Nigeria, African Re maintains a strong competitive position throughout the entire African reinsurance market. Established in 1976, African Re is a supranational organisation, with the mandate to support the development of the African insurance and reinsurance market. Africa Re maintains a conservative investment strategy, which consists of cash and cash equivalents, fixed income investments, listed and unlisted equities and a property exposure. The Corporation plans to expand operations into Angolan and Algerian markets.
Barclays Africa Group [Banks]
Maria Ramos, Chief Executive Officer
Ramos overlooks one of Africa's largest financial services groups. She joined Barclays Africa Group and the Executive Committee in 2009. Ramos is a member of the Barclays PLC Executive Committee. Barclays Africa Group has delivered solid financial results for the year ended December 31, 2014 and is on track to deliver on its strategic priorities and financial commitments. Strong performance in Rest of Africa as businesses in Mozambique, Botswana and Zambia grew strongly, contributing to 27% increase in revenue and a 36% improvement in headline earnings. "The Group has never been in a stronger position than it is today. We are building the 'Go-To' bank in Africa. We will keep improving our business in South Africa by picking up the pace on turning around RBB while simultaneously driving growth in our Corporate Bank and WIMI franchise across the continent. There is great upside in extracting more value from our existing portfolio so this is our main priority for 2015."
CDC Group [DFIs]
Diana Noble, Chief Executive Officer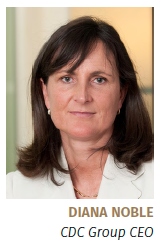 Noble has been the Chief Executive of CDC, the UK's development finance institution, since 2011. Noble's background is in private equity, venture capital and international development. She was a partner at Schroder Ventures (now Permira) for 12 years, founder CEO of e-Ventures and founder Managing Director of Reed Elsevier Ventures. She joined CDC after five years with the Clinton Foundation's Health Access Initiative, where she oversaw the scale-up of a global program to give children equal access to HIV/AIDS care and treatment to that available to adults. CDC supports the building of businesses throughout Africa and South Asia to create jobs and make a lasting difference to people's lives. CDC has invested £1.3bn of capital, both debt and equity, directly and through funds in almost 600 companies across Africa. CDC has played a pivotal role in establishing and supporting the growth of the private equity industry in Africa. Since 2004, of 60 Africa fund commitments made by CDC totaling over $2.5bn, 26 were made to first-time teams totaling $940m. "As the UK's development finance institution our role is to support the growth of businesses and job in some of the world's most challenging investment environments. This means Africa. We recognize that having a job is one of the first steps out of poverty, so we aim to invest where the private sector is weak and jobs are scarce. As demographic changes sweep through the continent, Africa needs jobs desperately and needs the capital to support the businesses creating those jobs. This is why Africa remains a priority for CDC."
China Investment Corporation [SWFs]
Li Keping, Vice Chairman, President & Chief Investment Officer
Keping is Vice Chairman, President and Chief Investment Officer of CIC, Chairman of CIC International (Hong Kong). He previously served as Executive Director, Executive Vice President and Chief Investment Officer of CIC. Headquartered in Beijing, China Investment Corporation (CIC) was founded in 2007 as a wholly state-owned company. CIC is actively investing in agriculture and infrastructure projects. For some small-scale projects, CIC is cooperating with China-Africa Development Fund to make investments in Africa.
DEG (Deutsche Investitions- und Entwicklungsgesellschaft) [DFIs]
Karl Weinfurtner, Director New Business and Portfolio Management Africa
Weinfurtner is Director of the Africa Department of DEG - Deutsche Investitions- und Entwicklungsgesellschaft mbH, a subsidiary of KfW. He holds this position since 2011. Prior to this, he was Head of DEG's Department of Agriculture, Food and Forestry for more than ten years. Weinfurtner joined DEG in 1991. He has broad experience and a long track record in financing private investments in Africa, Latin America, Asia and Eastern Europe. He is/has been member of Board of Directors of several companies in various sectors and countries. Weinfurtner started his professional career in 1984 as an expert for agricultural policy matters with a farmer's association in Germany. Before joining DEG, he lived in Tanzania, where he was responsible for the planning, implementation and supervision of development programs. The mission of DEG is to promote business initiative in developing and emerging market countries as a contribution to sustainable growth and improved living conditions of the local population. This year, DEG committed €22m to the newly established Metier Capital Growth Fund II to invest in mid-market companies operating in South and Sub-Sahara Africa. The German DFI has also supported Vantage Mezzanine Fund III with €18m investment and arranged debt financing of Ohorongo Cement company in Namibia.
Ecobank [Banks]
Albert Essien, Group Chief Executive Officer
Essien was appointed CEO of the Ecobank Group in March 2014. Executive director of the Group since 2005, he has held several senior positions including Deputy Group CEO, in addition to serving as Group Executive Director for Corporate Bank & Investment Bank. Ecobank is a pan-African banking conglomerate, with banking operations in 36 African countries.The Ecobank Group is a full-service bank focused on Middle Africa. It provides wholesale, retail, investment and transactional banking services to governments, financial institutions, multinationals, local companies, SMEs and individuals. "Sustainability is at the core of our mission and vision of building a world-class pan-African bank that contributes to the integration and socio-economic development of the continent."
FirstRand [Banks]
Sizwe Errol Nxasana, Chief Executive Officer
In January 2006, Nxasana took over as CEO of FirstRand Bank, the wholly-owned subsidiary of FirstRand Limited, with responsibility for the entire banking operations of the Group, including First National Bank, Rand Merchant Bank and WesBank. Since 2010 he is also the CEO and Executive Director of FirstRand Limited. Nxasana recently announced his retirement and will be replaced by his deputy, Johan Burger, in October 2015. With operations in nine African countries, FirstRand is Africa's largest banking group by market value. The Group has applied for a license in Ghana and is looking at opportunities in Kenya.
FMO (Nederlandse Financierings-Maatschappij voor Ontwikkelingslanden) [DFIs]
Alison Klein, Manager, Private Equity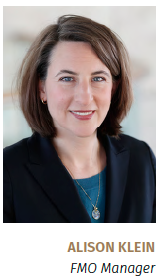 Klein is a manager at the Dutch development bank FMO, responsible for private equity in Africa. She was previously an investment manager at AlpInvest Partners, focused on private equity fund investments in Europe, Israel and selected emerging markets. Alison helped to design and deploy AlpInvest's cleantech mandate and represented AlpInvest on the advisory committees of leading buyout and venture capital funds. She previously worked at The Boston Consulting Group, and began her career with both commercial and financial roles with Focus Ventures, USWeb / CKS, and Forrester Research. Founded in 1970, the Dutch development bank FMO is a public-private partnership, with 51% of our shares held by the Dutch State, and 49% held by commercial banks, trade unions and other private-sector representatives. FMO finances businesses, projects and financial institutions in developing and emerging markets, with the aim of supporting sustainable private sector development.
International Finance Corporation
Jin-Yong Cai, Executive Vice President and Chief Executive Officer
Cai is Executive VP and CEO of IFC, a member of the World Bank Group and the largest global development institution focused on private sector development. Cai joined IFC on October 1, 2012. He has extensive experience in private sector development in emerging markets across the globe. Throughout his career, he has been recognized for his role in major transactions in financing, restructuring, and mergers and acquisitions. IFC's activities help developing countries achieve sustainable growth by financing investment, mobilizing capital in international financial markets, and providing advisory services to businesses and governments. IFC strategy in Africa has three main priorities: bridging the infrastructure gap, helping to build a productive real sector across the continent, and becoming a leader in fostering inclusive business approaches. IFC committed a record$5.3bn to new investments and carried out advisory services projects worth $65m in Sub-Saharan Africa in its most recent fiscal year.
Investec [Banks]
Stephen Koseff, Chief Executive Officer
Koseff serves as CEO of Investec PLC and Investec Limited since 1997. He is also a Director of Bidvest Group. He is one of the longest-serving banking CEOs in South Africa. He joined Investec in 1980 and was appointed managing director in 1988. Investec is an international specialist bank and asset manager that provides a diverse range of financial products and services to a niche client base in two principal markets, the UK and South Africa as well as certain other countries. The group was established in 1974 and currently has approximately 8 200 employees. The group has reshaped its business model, both through the sales of businesses and the restructuring that has taken place over the past few years. The group believes that these strategic initiatives place Investec in a favorable position to make progress in its core client-and geographic- markets.
Kuwait Investment Authority [SWFs]
Bader M. Al Sa'ad, Managing Director
Al Saad was appointed on the Board of Directors of the Kuwait Investment Authority in 2003. With $548m assets, KIA is the oldest sovereign wealth fund in the world. KIA traces its roots to the Kuwait Investment Board, which was established in 1953, eight years before Kuwait's independence. KIA has a long-term investment horizon and has the ability to bear risk and accommodate short-term volatility.Kuwait sees good investment opportunities in North Africa. In April, the Kuwaiti government has deposited $2bn in the Central Bank of Egypt to support the country's economy, and is looking to invest additional $2bn this year through the state-run KIA.
Nedbank Group [Banks]
Nic Andrew, Head of Nedgroup Investments
Andrew completed his articles at Deloitte and Touche (SA) and joined their Corporate Finance team in London in 1996. In 1999, he joined Nedcor Investment Bank and later became Head of Investments. Following the merger between BoE and Nedcor in 2003, Andrew was appointed Head of Nedgroup Investments. Nedbank Group is one of South Africa's four largest banking groups by assets and deposits, with Nedbank Limited being the principal banking subsidiary. The Group provides a wide range of wholesale and retail banking services and a growing insurance, asset management and wealth management offering through five main business operations, namely Nedbank Capital, Nedbank Corporate, Nedbank Business Banking, Nedbank Retail and Nedbank Wealth.
Northwestern University [Endowments]
William H. McLean, Vice President and Chief Investment Officer
McLean was appointed VP and CIO for Northwestern University in January 2002. He is responsible for managing the University's $7.1bn diversified portfolio. Prior to joining Northwestern University, he was the Senior Managing Director for Asset and Investment Management at the Chicago-based John D. and Catherine T. MacArthur Foundation, responsible for overseeing all facets of the management of their portfolio. He also served as an Investment Officer at The Duke Endowment in Charlotte , North Carolina. The Fund's value grew from $956m at the inception of fiscal year 1992 to $9.704bn through the fiscal year ending August 31, 2014. In Africa, the fund is investing in Nigeria and Kenya among other countries.
Old Mutual Group [Insurance]
Ralph Mupita, Chief Executive Officer, Old Mutual Emerging Markets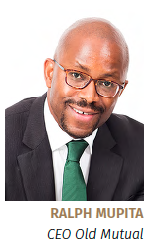 Mupita has been the CEO of Old Mutual Emerging Markets since February 2012. He was previously the CEO of Old Mutual Life and Savings. He joined Old Mutual in 2000 and has held various positions such as Group Director of Sales; Managing Director of Old Mutual Trusts; Old Mutual New Venture Director and Managing Director of Retail Affluent. Old Mutual Emerging Markets has operations across Africa, Asia and Latin America. It seeks to provide the Old Mutual Group with a sustainable growth platform through its investments in high growth emerging markets. "We have a strong foundation in South Africa, operate in eight of the 15 Southern African Development Community countries, have a 170-year heritage and a trusted brand, and are recognized as a leader in community development. We have deep management capability, capital available for expansion and established expertise in serving and growing developing markets. Our strong positioning in southern Africa makes an ideal base for expansion into sub-Saharan Africa's growth markets – notably Kenya, Ghana and Nigeria – and for building an African financial services champion."
Ontario Teachers' Pension Plan [Pensions]
Jo Taylor, Managing Director, EMEA, London Office
Taylor is the Managing Director of Teachers' London office, and has the oversight responsibility for managing the full cycle of opportunity origination, analysis, value creation and execution of investment activities in Europe, the Middle East and Africa on behalf of Teachers'. He also heads all aspects of the organization's advisory relationships and provides strategic leadership within this region. He is a member of Teachers' Investment Committee, TPC's Investment Committee, Investment Division Investment Committee and is an active member of all asset-class committees operating in the region. Teachers' posted a 11.8% rate of return on its investments in 2014, taking net assets to a record C$154.5 billion ($121.5bn).
Sanlam Group [Insurance]
Heinie Werth, Chief Executive Office, Sanlam Emerging Markets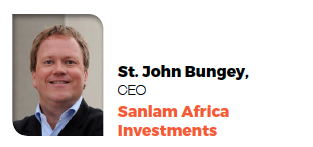 Werth has been appointed CEO of Sanlam Emerging Markets (previously Developing Markets) in December 2005 and before that served as Financial Director of Sanlam Life from April 2002. He also serves as Executive director of Sanlam Emerging Markets, non-executive director of Shriram Capital (India), Botswana Insurance Holdings and Sanlam Namibia. Sanlam is a leading diversified financial services group, originally established as a life insurance company in 1918. The Sanlam Emerging Markets (SEM) cluster is responsible for Sanlam's financial business services (life assurance, general insurance and asset management) in emerging markets outside South Africa with the aim of ensuring sustainable delivery and growth across the various businesses that make up this cluster. As part of the Group's vision, it strives to lead wealth creation in those markets. In Africa, SEM has businesses in Botswana, Namibia, Malawi, Kenya, Tanzania, Zambia, Ghana, Nigeria, Uganda and Swaziland.
Societe Generale [Banks]
Alexandre Maymat, Head of the Africa/Asia/Mediterranean Basin & Overseas region, International Banking and Financial Services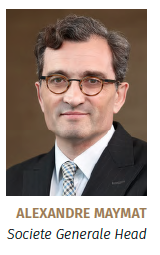 After almost 10 years in the Public Sector, at the French Ministry of the Economy and Finance and at the European Union, Maymat joined Societe Generale in 2001 where he has held various positions successively in the Inspection department, in the French and in the international retail banking networks. In 2009, he was appointed CEO of Societe Generale Cameroun before being promoted Head of the Africa/Asia/Mediterranean Basin & Overseas region in 2012 and a member of the Group Management Committee in 2013. Present in Africa for over 100 years, Societe Generale has developed a deep local knowledge and its international expertise in supporting its corporate and individual clients. The bank operates in 18 countries and has built a vast, continent-wide network with nearly 1,000 branches and more than 11,000 employees serving more than 3 million clients, including 150,000 companies. "Societe Generale aims to accelerate its revenue growth to approximately 7% per year by 2016. To achieve this target, the bank will allocate nearly €4 billion of additional assets (RWA) to Africa by 2016."
Standard Bank [Banks]
Helmut Engelbrecht, Head of Investment Banking Africa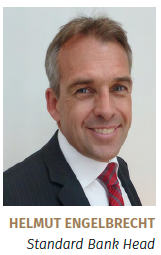 Engelbrecht has 15 years of experience in Investment Banking and has been responsible for growing Standard Bank's Investment Banking business outside of South Africa for the last six years. Standard Bank, Africa's largest bank by assets, with a footprint across 20 African countries, has investment bankers situated across Sub-Saharan Africa. Standard Bank has a wealth of experience across the investment banking landscape including merger and acquisitions, capital markets activity and balance sheet lending transactions. Standard Bank's Corporate and Investment Banking offering provides customers and clients with market access through listings on equity and debt exchanges to raise capital for economic activity. Uniquely positioned to sell the local equity and debt instruments to both local and international investors, Standard Bank utilizes its own balance sheet alongside other debt providers to provide growth capital, project finance, property finance and acquisition finance facilities to African corporates or investors into Africa. "Standard Bank is Africa's largest bank with a presence in 20 Sub Saharan African countries. It recently added Cote d'Ivoire, South Sudan and Ethiopia to its existing footprint. Standard Banks's revenue from African countries outside of South Africa has grown by a compound annual growth rate of 29% over the last 3 years. Standard Bank now earns around 30% of its income from Africa outside of South Africa."
Standard Chartered [Banks]
Diana Layfield, Regional Chief Executive Officer, Africa
Layfield was appointed CEO for Africa in 2011, responsible for driving the Bank's business and brand across Africa. She has been Group Head of Strategy and Corporate Development - acquisitions, alliances, mergers and disposals - since 2009. Layfield has held a number of senior management roles since joining the Bank in 2004, including Chief Operating Officer for Wholesale Banking and as Group Head, Global Corporates. Standard Chartered is an international bank, listed on the London, Hong Kong and Mumbai stock exchanges. The Bank has operated in Africa for over 150 years with the region remaining a core part of the Bank's Group Strategic Intent. Standard Chartered has branches in 16 African countries. The Bank also has a unique international footprint which enables it to facilitate the growth of international trade corridors between Africa and the rest of the world.
Stanbic IBTC Pension Managers [Pensions]
Demola Sogunle, Chief Executive Officer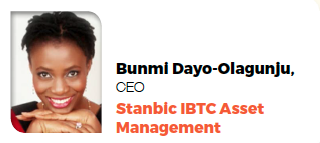 Sogunle was appointed CEO of Stanbic IBTC Pension Managers on August 19, 2011. He has over 24 years' experience in core banking as well as risk management. Stanbic IBTC Pension Managers, Nigeria's largest pension fund administrator by number of clients, is a licensed Pension Fund Administrator (PFA) and a subsidiary of Stanbic IBTC Holdings, a member of Standard Bank Group. The company attained the 1,000,000 retirement savings account (RSA) benchmark in 2012 and had assets under management of over $7bn in 2013. Stanbic IBTC Group continues to seek opportunities in high growth sectors of the Nigerian economy to grow its business.
Swiss Re [Insurance]
Guido Fürer, Group Chief Investment Officer
Fürer serves as Group CIO at Swiss Re, responsible for managing all investments of Swiss Re Group. The African continent, especially Sub-Saharan Africa, has for some time been a focus area of the group. Insurance premiums in Sub-Saharan Africa are growing in line with the region's economies, with a relatively high share of insurance premiums ceded to reinsurers. Swiss Re is reaching out to forge long-term partnerships across the region. Infrastructure, agriculture, life and health and development of the region's natural resources are all promising sectors where signs point to further, long-term expansion for the company. As such, Swiss Re made an important commitment to the Grow AfricaPartnership in 2012. This initiative was launched by a number of organizations with the objective of promoting public-private collaboration and investment in African agriculture.
The Bill & Melinda Gates Foundation [Foundations]
Sue Desmond-Hellmann, Chief Executive Officer
Desmond-Hellmann leads the foundation's efforts to promote equity for all people around the world. She sets strategic priorities, monitors results, and facilitates relationships with key partners. She has deep expertise in health and medicine and a strong underpinning of working at a large institution. Based in Seattle, Washington, the foundation is co-chaired by William H. Gates Sr., under the direction of Bill and Melinda Gates and Warren Buffett. In developing countries, it focuses on improving people's health and giving them the chance to lift themselves out of hunger and extreme poverty.
The California Public Employees' Retirement System (CalPERS) [Pensions]
Ted Eliopoulos, Chief Investment Officer
Eliopoulos assumed the role of CIO in September 2014, responsible for managing an investment portfolio of approximately $300bn. He determines prudent, forward-thinking investment strategies in accordance with CalPERS fiduciary responsibilities, policies, and corporate governance standards. Eliopoulos joined CalPERS in January 2007 and served as Senior Investment Officer for the Real Estate Division from 2007 to 2011. CalPERS actively participates in African public markets, and owns stocks, government bonds and REITS such as SA Corporate Real Estate Fund in its investment portfolio.
The Government Employees Pension Fund // Public Investment Corporation [Pensions]
Daniel Matjila, Chief Executive Officer and Acting Chief Investment Officer, PIC
Matjila is a CEP and CIO of PIC since 2005. He is an experienced finance & investments specialist with over 20 years' in Senior Management role both in the private sector and academic sector. He also has over 15 years in investment management industry. GEPF is Africa's largest pension fund with more than 1.2 million active members, in excess of 300 000 pensioners and beneficiaries, and assets worth more than R1 trillion. The Public Investment Corporation is the asset management company for GEPF and invests funds on their behalf. PIC invests in four main asset classes: equities, fixed income, properties and Isibaya Fund. Equities, the largest asset class within PIC, are shares of companies listed on the Johannesburg Stock Exchange (JSE). In the fixed income space PIC invests in the domestic capital (bond) and money markets. PIC Properties invests in retail, corporate, industrial, specialized and residential properties across South Africa. The Isibaya Fund invests in black economic empowerment and infrastructure development projects that help to create jobs, relieve poverty and transform the economy.
The Government Pension Fund Global // Norges Bank Investment Management [SWFs]
Yngve Slyngstad, Chief Executive Officer
Slyngstad leads the Norges Bank Investment Management, an organization that manages the Government Pension Fund Global, often referred to as the Norwegian oil fund, on behalf of the Ministry of Finance, which owns the fund on behalf of the Norwegian people. Slyngstad was named CEO in 2008, and has been in the company since 1998. He held the position of Head of Equities between 1998 and 2007. The Government Pension Fund Global is the largest SWF in the world with over $800bn ofassets. In 2014, the SWF had investments in South Africa, Egypt, Kenya, Morocco, Nigeria, Mauritius, Tunisia, Ghana and Zambia. In total, it invested in 169 African companies and 22 bonds from 4 issuers. Investments in Africa returned 18.2% in 2014. Last year, the fund invested for first time in the Ghanaian cedi, Mauritian rupee and Nigerian naira. "Our investment objective is the highest possible return with an acceptable level of risk. We will continue to add new markets to the portfolio as soon as they meet our requirements for market standards. We recognize that investments in frontier markets pose a higher risk to the fund, and we therefore attach importance to having sound risk management systems in place."
The Lundin Foundation [Foundations]
Stephen Nairne, Managing Director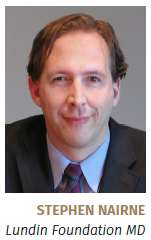 Nairne has served as the Lundin Foundation's Managing Director since 2007. He serves on the Advisory Board of several SME funds and companies in Sub-Saharan Africa and is concurrently appointed as an Adjunct Professor at the University of British Columbia, where he teaches course on Country Risk Analysis and African Political Economy. Prior to joining the Foundation, Nairne served as a Deputy Director with Canada's Department of Foreign Affairs, Trade, and Development and Senior Political Risk Analyst at Export Development Canada. The Lundin Foundation, which is active in 15 African countries, is a philanthropic organization founded originally by the Lundin family. The Foundation is currently supported by a number of publicly traded natural resource companies committed to the highest standards of corporate responsibility. "Looking ahead, the Lundin Foundation will continue to invest in innovative, scalable SMEs in Sub-Saharan Africa across three investment themes: agriculture, financial inclusion, and energy access. The Foundation also remains interested in supporting pooled SME investment vehicles in under-served frontier markets on the continent."
The Overseas Private Investment Corporation (OPIC) [DFIs]
Brooks Preston, Vice President of Investment Funds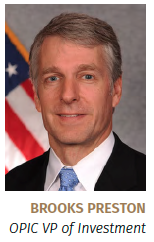 Preston oversees a department, which has committed more than $4.4bn to dozens of emerging market private equity funds since 1987. The Funds team currently manages approximately 50 financial commitments to private equity funds in Africa, Asia, Latin America, the Middle East and Emerging Europe and has the intention to grow the existing portfolio. Before coming to OPIC, Brooks was the co-managing partner of the Virgin Green Fund Emerging Markets and a member of its Investment Committee. VGF EM focused on growth investments in the sustainability sectors in emerging Europe including CEE, Russia/CIS and Turkey. OPIC was established as an agency of the U.S. Government in 1971. "OPIC has seen more investment opportunities in Africa over the past decade than ever before. Funds focused on Sub-Saharan Africa now account for 36% of OPIC's investment funds portfolio and African projects make up nearly a quarter of OPIC's total finance and insurance portfolio, up from just 9% a decade ago. OPIC supported a number of high quality fund managers in Africa - Ethos, Helios, and IHS to mention a few. Moreover, we are supporting additional fund managers with strategies that extend further into more of the frontier markets. We are excited about both the investment returns and the development opportunities."
The Nigeria Sovereign Investment Authority [SWFs]
Uche Orji, Chief Executive Officer & Managing Director
Orji joined the NSIA as CEO in October 2012, from Switzerland's largest bank, UBS Securities, where he was Managing Director in the New York branch of its Equities Division. NSIA is the manager of Nigeria's Sovereign Wealth Fund. NSIA commenced operations in October 2012 with an initial allocation of $1bn in seed capital. NSIA's investments are made through three distinct funds: the Future Generations Fund (40% of total assets), the Nigeria Infrastructure Fund (40%) and the Stabilisation Fund (20%).
The Rockefeller Foundation [Foundations]
Mamadou Biteye, Managing Director, Africa, Africa Regional Office
Biteye oversees the Foundation's work across Africa, bringing with him decades of experience and expertise in the development sector in Africa. He joined the Foundation from Oxfam Great Britain's West Africa Regional Center, where he was the Regional Director, responsible for strategic program leadership and overall management of the West Africa region, including eight country offices.He has had extensive field experience in Senegal, Burkina Faso, The Gambia, Guinea, GuineaBissau, Mali, Ghana, Nigeria, Sierra Leone, Liberia, Chad and Zimbabwe.
The Saudi Arabian Monetary Agency (SAMA) [SWFs]
Fahad al-Mubarak, Governor
Almubarak was appointed by Saudi King Abdullah to head the Saudi Arabian Monetary Agency (SAMA) in 2011. He has worked in executive management positions providing investment management and corporate finance advisory services during most of his career. Almubarak was previously chairman and managing director of Morgan Stanley Saudi Arabia. He has also held the position of chairman of the Saudi stock exchange. Established in 1952, SAMA is the central bank of the Kingdom of Saudi Arabia. In addition SAMA controls SAMA Foreign Holdings, the sovereign wealth fund with assets of over $750bn. As other SWFs from the Middle East, SAMA remains focused on emerging markets with a large focus on alternative investments.
The Soros Economic Development Fund [Foundations]
Cedric de Beer, Vice President
De Beer joined SEDF (Soros Economic Development Fund) as VP and Director of Africa Operations in July 2009. Based in Johannesburg, he is responsible for opening up new investment areas in Africa and monitoring the progress of new investments. He also represents SEDF on the Board of Nurcha. With SEDF and government support, Nurcha has financed the construction of more than 300 000 low income houses in South Africa over 15 years. The Soros Economic Development Fund (SEDF) supports economic development in post-conflict countries and in nations transitioning to democracy. SEDF is a nonprofit private foundation that is part of the Open Society Foundations, a network of charitable foundations created by investor and philanthropist George Soros.
The Royal County of Berkshire Pension Fund [Pensions]
Nick Greenwood, Pension Fund Manager
Greenwood is a fund manager at the Royal County of Berkshire Pension Fund. He has been instrumental in conducting a thorough review of the Fund's governance structure as well as instigating a major overhaul of the Fund's investment strategy. The £1.6bn ($2.4bn) pension scheme has been investing in Africa for over six years, focusing on East African, West African countries and southern parts of the continent. One of the recent investments was allocation to Sarona Frontier Markets Fund 2, a private equity fund of funds. RCBPF previously invested in Africa Infrastructure Investment Managers and to a private equity Kuramo Capital Management's multi-asset multi-manager fund.
The University of Notre Dame [Endowments]
Scott Malpass, Vice President and Chief Investment Officer
Malpass is VP and CIO at the University of Notre Dame, responsible for investment of the University's endowment, working capital, pension and life income assets of some $10bn as of the fiscal year ended June 30, 2014. Having served as chief investment officer since 1989, Malpass works closely with the investment committee of the University's Board of Trustees in partnering with the most sophisticated investment management organizations throughout the world. The Notre Dame Endowment has achieved top tier investment performance over both short and long-term time periods. The Notre Dame Endowment is the 12th largest in American higher education and the largest at a Catholic university. The Endowment is invested in a global, multi-asset class portfolio, with a heavy commitment to equity and equity-like investments for long-term growth. Over the past 10 years, the Notre Dame endowment achieved an annualized return of 11%.The endowment pool grew from $3.5bn to $9.8bn over the 10-year period.
The University of Texas Investment Management Company (UTIMCO) [Endowments]
Bruce E. Zimmerman, Chief Executive Officer and Chief Investment Officer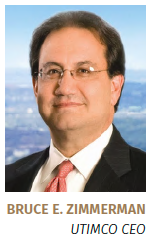 Zimmerman is CEO and CIO of the University of Texas Investment Management Company. Prior to joining UTIMCO, he was CIO and Global Head of Pension Investments at Citigroup. Previously at Citigroup, Bruce had been CFO and Chief Administrative Officer for Citigroup Alternative Investments, which invested over $90b in proprietary and client capital across a range of hedge fund, private equity, private real estate equity and structured credit vehicles. Created in March 1996, UTIMCO is the first external investment corporation formed by a public university system and oversees investments for The University of Texas and Texas A&M Systems. UTIMCO is one of the nation's largest endowments. According to UTIMCO's 2013 annual report, MCC Emerging Market Public Equity contains external managers with global, regional or country-specific emerging market investment mandates. The Endowment exposure in this portion of the portfolio is approximately 10%.
The University of Wisconsin–Madison [Endowments]
Julie M. Van Cleave, Chief Investment Officer
Van Cleave is responsible for managing all aspects of the University of Wisconsin Foundation's investment operation. She joined the Foundation in 2013 after a combined 30 years as an equity portfolio manager with OppenheimerFunds, Deutsche Asset Management and Mason Street Advisors (Northwestern Mutual Life), managing top-rated mutual funds and institutional funds. The University of Wisconsin Foundation staff, along with the Investment Committee of the Foundation's Board of Directors, manages the Endowment fund on a total return basis. This allows the Endowment to be invested with a long-term perspective and an emphasis on diversified, equity-related strategies. Currently, the recommended mix for the endowment portfolio is 75% equity-related investments and 25% in fixed income investments.
United Nations Joint Staff Pensions Fund [Pensions]
Suzanne Bishopric, Director
Bishopric is the Director of Investment Management Division of the United Nations Joint Staff Pension Fund. She is responsible for a portfolio of approximately $42bn composed of equities, fixed income, private equity, commodities and real estate investments diversified throughout the globe. Bishopric has served on the Board of Directors of the Harvard Club of NYC, and Advisory Boards of the Africa Emerging Markets Fund, The IFC-World Bank Africa, Latin America and Caribbean Fund and the Order of St. John of Jerusalem, as Chancellor.